FINNISH RAP ARTIST TO PERFORM IN CHISINAU
28 april, 2017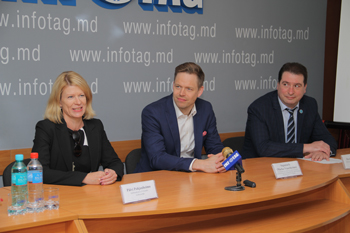 The Finnish singer Marko Vuoriheimo, better known under the pseudonym Signmark, will give two concerts in Chisinau and will discuss with Moldovan authorities the problems of people with disabilities.
He said at the Thursday's news conference at Infotag that he was born deaf, but can feel the music, which became for him the way to unite people.
"When I was at school, children with similar problems were often isolated from others. Then, I started to learn from children, who can hear, songs of Michael Jackson, groups Bon Jovi and Metallica, reading lips, and I was inviting other children to join me. In university I understood that the deafness is an complex social problem and how important is to attract such people to integrate in the society", the rap artist said.
According to him, he tried himself at auditions for Eurovision, performed his songs in the UN, became special representative of Finnish Ministry of the Interior for promoting the rights of people with disabilities.
"I overcame many obstacles in my life before becoming what I am now", the singer said.
Bucharest-based Ambassador Extraordinary and Plenipotentiary of Finland to Moldova Paivi Pohjanheimo said that in her country Marko is an example of how impossible can become possible.
"We came to Moldova for two reasons: to discuss the problem of people with disabilities and the press freedom. We will be meeting with Moldovan authorities and I am sure that Marko is the person who can influence them", the diplomat said.
Chairman of the Association of the Deaf of Moldova Ruslan Lopatiuc said that Finland's experience in resolving problems of people with hearing impairments will be very useful for Moldova.
"We have 5 thousand of deaf and only 19 sign language interpreters, nine of which were trained due to Finnish colleagues' help [Finland has a similar number of the deaf, but 500 interpreters]. There is a big problem with teaching deaf children in Moldovan schools. We would like that the Education Ministry to hear about our problems at least via Marko", he said.
Signmark said that in Finnish schools there is a practice when the class is divided into two groups: deaf and hearing. They are studying together and they have two teachers, one of which is a professional sign language interpreter.
Asked what he feels when he is writing music, Signmark said that for him it is like meeting woman of his dream.
"It is something incredible. But in fact I feel the same as people who can hear. The most important is to follow your dream", he said.
During his visit to Moldova, Marko Vuoriheimo will give a concert in the Association of the Deaf of Moldova in April 27 and in shopping center Malldova on 28.