​FESTIVAL OF SEXUAL MINORITIES KICKS OFF IN MOLDOVA
17 may, 2019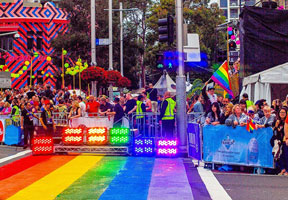 The 18th festival of the LGBT community, "Moldova Pride 2019", began in Chisinau on Thursday.
According to the Genderdoc-M Center, protecting the rights of sexual minorities, the opening ceremony involved also the representatives of foreign embassies and international organizations.

The Ambassador Extraordinary and Plenipotentiary of Sweden to Moldova, Anna Liberg, thanked the Center for its contribution to the struggle for human rights, and said that her country has been supporting this organization, including financially, for 10 years already.

The diplomat said that the slogan of this year's campaign, "I am OK!", is an evidence of the impressive development achieved thanks to effective information campaigns organized by the center annually. To love and to be loved by others, with one's good and bad qualities, is one of the important-most traits of a human being. "This is the essence of human rights helping us to live free, in security and in equality", said Anna Liberg.

Her Majesty's Ambassador to the Republic of Moldova Lucy Joyce voiced support to and solidarity with the Moldovan community of lesbians, gays, bisexuals, transsexuals, and stresses that every person must have a moral duty against hatred.

Martin McDowell, the Deputy Chief of Mission at the U.S. Embassy to Moldova, said that in many countries LGBT communities and their supporters are subjected to violence, arrests, harassments and humiliations when they try to defend their rights by participating in marches and peaceful meetings and thus struggle for the right to express their outlooks.

This year, the center established 3 anti-premiums for intolerance to LGBT – for President Igor Dodon, the Party of Socialists and for priest Ghenadie Valuta, to whom the symbolic awards and diplomas will be sent by mail.

In the course of the festival (May 16-19), a number of socio-cultural events are taking place in Chisinau. Traditionally, the festival program will be crowned with an LGBT march along central city streets.

Simultaneously with it, the central Chisinau will see cultural events to be held in the framework of the traditional annual Family Day. President Dodon has confirmed his participation in it together with his family.