MOLDOVAN PREMIER STATES ABOUT INTEREST IN EXTENDING COOPERATION WITH CHINA
27 november, 2019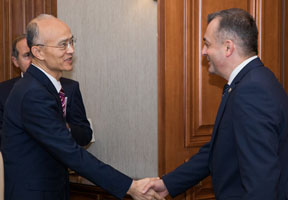 On Tuesday, Prime Minister Ion Chicu met with Ambassador Extraordinary and Plenipotentiary of China Zhang Yinghong, who transmitted to the Moldovan premier a congratulation message from the Chinese counterpart on the assumption of office. In the letter, Premier of the State Council of the People's Republic of China Li Keqiang stated about the intention to extend cooperation with Moldova in a number of fields.
Chicu thanked for congratulations and highly appreciated the technical support, provided by the Chinese Government to Moldova, including the gratuitous assistance.

He promised to take concrete measures and continue the reform of justice to provide to investors the predictable frameworks of activity.

The premier confirmed the interest in presence of Moldovan goods on the Chinese market.

In his turn, the Chinese Ambassador informed about the spheres of investment interest in Moldova, pointing at infrastructure and social projects.

The interlocutors pointed on the friendly character of the Moldovan-Chinese relations and expressed openness for further intensification of cooperation.