WB READY TO PROVIDE TO MOLDOVA CREDITS ON LOWEST INTEREST RATES - BANK EXECUTIVE DIRECTOR
26 octomber, 2017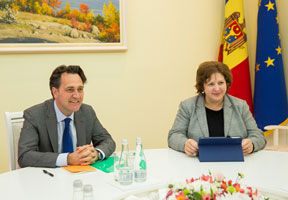 The World Bank Executive Director for Moldova Frank Heemskerk, who is paying a visit to Moldova, was received by Deputy Premier, Minister of Economy and Infrastructure Octavian Calmic.

During the meeting, the WB representative said that the bank is ready to provide to Moldova a credit of US$25 million for implementation of projects, connected with climate change, which influence the economic development, environment, infrastructure and others.

According to Heemskerk, the financial institution he represents provided to the German concern Schwarz Gruppe a credit for implementing in Moldova of a project on extending the Kaufland network, which is a subdivision of this concern.

"This decision was adopted given the fact that the German concern is a reliable partner, which fulfills all the liabilities all the time. Besides, the WB is interested in developing business in Moldova", Heemskerk said.

According to him, an example of developing partnership with Moldova is also the decision of the WB Group Executive Board, which approved a new partnership structure for Moldova for 2018-2021.

"This new strategy, agreed with the Moldovan Government's current program of economic development, will support the republic in the process of transiting to a new model of sustainable economic development", WB representative said.
Хорошо ли когда международный чиновник откровенно лобирует интересы конкретной немецкой компании..?