PARLIAMENT APPROVES 2018 FISCAL POLICY IN FIRST READING
03 november, 2017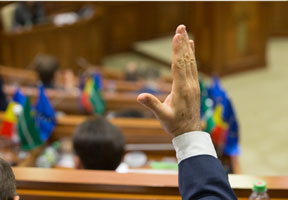 The Parliament has approved the 2018 fiscal policy in a first reading by majority of votes of MPs, present at the Thursday's legislature sitting.

Minister of Finance Octavian Armasu said that the fiscal policy for the next year includes the first stage of harmonizing the national tax legislation with European norms, including the harmonization of notions, as well as excise taxes and tax rates.

According to the document, the fiscal policy implies a simplified methodology of calculating the fixed assets' amortization. The 8% lowering of the VAT rate will be applied to the energy, received from biomass for state institutions.

The tax on income of citizens, who supply agricultural goods, will grow to 5% from 3%. The excise tax on petroleum products, tobacco and alcohol will also be raised. For the first time a new formula for calculating the luxury tax will be introduced for automobiles worth over 1.5 million lei. The sum of personal exemption of taxable income for physical persons will be raised by 6%. Each person has the right to personal exemption at a sum of 11.28 thousand lei per year against the current 10.96 thousand. For those, who suffered after the Chernobyl nuclear catastrophe and from political repressions, as well as Transnistrian and Afghan war veterans it will account for 16.8 thousand lei per year instead of 15.84 lei. Other changes concern the canceling of tax and customs exemptions for Duty Free shops, located in the territory of the country or at the entrance in the country. According to the draft law, this measure will enter into force on July 1, 2018.