MOLDOVA PRESIDENT ASSURES U.S. AMBASSADOR HE WILL NOT BE USING ADMINISTRATIVE RESOURCE IN ELECTION CAMPAIGN
18 september, 2020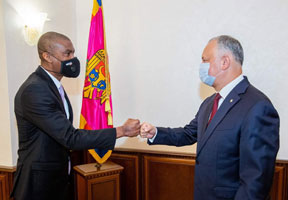 Moldova President Igor Dodon has assured the United States Ambassador Extraordinary and Plenipotentiary to the Republic of Moldova, Dereck Hogan, that he will not be using the administrative resource in the election campaign.

Describing in the Facebook his meeting with the American diplomat held on Friday morning, Igor Dodon wrote that they had discussed a broad range of questions pertaining to the interaction between the two countries and underlined their productive dialog developing at various levels and in various spheres presenting mutual interest.
"We touched particularly on a started presidential campaign in Moldova. From my part, I confirmed an intention to take part in the electoral process without using the administrative resource. And upon the whole, I highlighted the striving of the country leadership and plenipotentiary institutions for conducting a transparent, free and democratic presidential election", wrote Igor Dodon.

Later this morning, the head of state held his traditional weekly live Q&A communication with citizens on his YouTube channel and social networks held every Friday, and said that the meeting with Ambassador Derek Hogan was "very good" and that "we discussed various aspects of the forthcoming presidential elections".

Dodon stated: "There shall be no falsification of election results. Election rigging is simply impossible because there will plenty of observers from Moldovan political parties and profiled organizations, and many international observers".

Dodon reaffirmed that during the campaign he will not be using the administrative resource, "And I am actually disinterested in using it. After the campaign start, I will not be eligible to take part in whatever state events or conduct actions as a president. So, there shall be nothing, no elements whatsoever that can be perceived or interpreted as an administrative resource using".

Igor Dodon also said that upon the official start of a full-fledged election campaign [October 1], he will stop using his presidential automobile, and that his personal photographer and video-cameraman will go on an official leave, and will be working with the President only by using their personal equipment.