PARTNERS IN SOCIAL DIALOG HOLD CONSULTATIONS IN PRESIDENTIAL OFFICE
07 august, 2019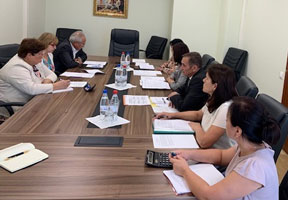 On Tuesday, the partners in social dialog continued their consultations on the package of documents proposed by President Igor Dodon in the pension reform sphere. Held in the Presidential Office, the discussion involved the representatives of the National Trade Union Confederation, the Ministry of Health, Labor and Social Protection, and the National Social Insurance Fund.

They discussed a bill stipulating the indexation of pensions twice a year – every April 1 and October 1. April 1 indexations will be done annually in accordance with the procedure used presently – for all pensioners to an amount equivalent to the average annual consumer price index for last 3 years.

On October 1, 2020 the indexation will be available to nearly 400 thousand pensioners whose monthly pension size does not exceed the official subsistence level in the country. This value will be gradually growing, including due to the growing number of beneficiaries of double indexation. This indexation will be made either to the size of the average indicator of the consumer price index for last 3 years or to the level of prices in the first half of a current year. In practice, the highest one of the two indicators will be used.

Another bill discussed at the Tuesday consultations stipulates that the State guarantees to a survivor spouse the right to receive the pension of his/her deceased spouse – during a certain fixed period of time.

According to the National Social Insurance Fund, 3268 people died in Moldova in 2018 within shorter than 5 years for going on pension, and the average duration of receiving pensions constitutes only 2.6 years.

President Dodon will shortly send the above bills to the Parliament as his legislative initiative.

The next draft law to be discussed with the partners in social dialog is aimed at rendering a better social protection for vulnerable population groups through providing financial assistance in heating seasons.