PRESIDENT DODON SAYS THAT COURT DECISION ON FILAT'S RELEASE WAS UNLAWFUL
04 december, 2019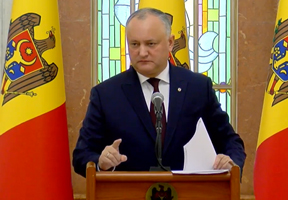 Moldova President Igor Dodon believes that the court's decision on the early release of ex-prime minister Vlad Filat was passed contrary to the law, he stated to the press on Wednesday following the Supreme Security Council sitting, at which this question was discussed.

"It is apparent that the conditional early release procedure was prepared for a long time, with direct participation of the previous Government representatives and the Ministry of Justice. Due to the bad detention conditions provided to Filat in penitentiary institution, the court reduced his imprisonment term twice, last July and September, by a total of 709 days. Those reduction decisions were strangely left by the Ministry of Justice unchallenged with a higher judiciary instance", stressed the head of state.

In his words, the Ministry of Justice changed several times the personal composition of the ministerial commission that tackles conditional early release questions.

"After that, on November 8 the commission unanimously approved of Filat's early release, and on November 12, i.e. on the day when Maia Sandu Government was discharged, the prison administration (but not lawyers!) addressed to the court with a request to permit the conditional early release. And yesterday the court passed the release decision", said Igor Dodon.

The President stated that the court decision will be challenged and the prison administration and all having a relation to this decision shall be dismissed.

"All this became possible through the fault of the previous Government. Our judiciary system has been in a complete chaos. Clans are fighting against one another. There are tens of similar cases, on which analogous disputable court decisions may be taken. This may lead to release of dangerous criminals. Can you imagine what this will be? It is a challenge to all of us. We must establish order in this sphere", stated the Moldovan President.

Answering journalists' questions about the possibility to return the nation's superior state award – the Ordinul Republicii [Order of the Republic] to Filat in accordance with the yesterday's court decision, Igor Dodon said that the court ruled to return the Order to Filat and to lift the prohibition for him to hold state posts for 5 years after coming out of prison.

"But we are now speaking not about this but about the court decision being unlawful, so it will be challenged", emphasized Igor Dodon.

As was already reported by Infotag, Vlad Filat was arrested on October 15, 2015, and in June 2016 he was sentenced to 9 years with the confiscation of personal property, and with prohibition to hold public posts for 5 years after release, and with a fine of 60,000 lei (about US$3 thousand). He was charged of a major corruption, benefitting from position and influence, accepting bribes (cash and presents) total worth US$250 million from currently fugitive business tycoon Ilan Shor.

According to the second criminal litigation, which was initiated against him in February 2019, Filat was accused of a particularly grand money laundering. This investigation is still continuing. Vlad Filat and his lawyers regard both cases as political ones, claiming that oligarch Vlad Plahotniuc stood behind them.