TIRASPOL LEADER SUGGESTS INTRODUCING RUSSIAN LEGISLATION IN TRANSNISTRIA
05 december, 2013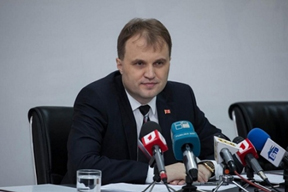 Yevgeny Shevchuk, president of the unrecognized Transnistrian Moldovan Republic (PMR), has stood up with an initiative to introduce the Russian Federation's legislation in the PMR.

In his accompanying letter, Shevchuk proposed that the Russian federal legislation become a priority guideline, and that the PMR legislation occupy a "sub-federal level in the legislation hierarchy", as he put it.

The Tiraspol leader believes that Transnistria will soon come to face an acute problem of embedding into a new economic reality that will emerge upon signing by Moldova of a Deep and Comprehensive Free Trade Agreement (DCFTA) with the European Union presumably next year.

"The popular will, expressed clearly at the 2006 regional referendum, is dictating the necessity for having a clear-cut and unified approach to rapprochement of the Transnistrian legislation with the Russian federal legislation by means of strict implementation of the federal legislation and standards of the Customs Union [of Russia, Belarus and Kazakhstan]. The development vector chosen by the Transnistrian people indicates the need for a fuller convergence of the legal systems of Transnistria and Russia", thinks the initiative author.

Shevchuk underscored that in 2012, Transnistria entered a new stage of interaction with Russia: cooperation grounds are broadening, large-scale social and humanitarian projects are under way, questions of Transnistria's integration into the Russian Federation's trade and economic area are being scrutinized, and so forth.

"The realization of signed agreements requires a sound legal basis – one not just harmonized with but unified with the Russian legislation. The settled historic, cultural and economic ties between Russia and Transnistria within the common Russian World, along with Russia's geopolitical interestedness in regional stability, are determining objectively the need for a Russia-Transnistria relationship of strategic partnership", believes Yevgeny Shevchuk.

The Tiraspol leader has already sent this legislative initiative to the Transnistrian supreme soviet [parliament]. If it is accepted officially, a special inter-ministerial commission will be set up for drafting a constitutional law called to regulate the peculiarities of applying the Russian federal legislation in Transnistria.

Infotag's dossier: In 2012, Yevgeny Shevchuk submitted to the Transnistrian supreme soviet a legislative initiative on the parallel circulation of the Russian ruble currency with the Transnistrian ruble in the region. However, no decision on it has been taken until now.