MOLDOVAN STUDENTS TO PRESENT THEIR PROJECTS AT AGRO-INDUSTRIAL EXHIBITION
19 octomber, 2017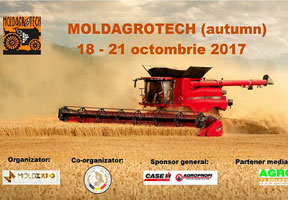 Students of the Moldova Agrarian University will present reports on their researches at the 20th international agricultural produce exhibition "Farmer" and the 33rd exhibition of specialized machinery MoldAgroTech, which are being held in Chisinau International MoldExpo Center on October 18 through 21.

According to the MoldExpo administration, 385 enterprises from 14 countries –Austria, France, Germany, Belarus, Italy, Romania, Serbia, Turkey, the Czech Republic, Ukraine, the Great Britain, Poland, St. Kitts & Nevis and Greece – will present their products at exhibitions.

"Entrepreneurs will present innovative greenhouses, forages, premixes, agricultural raw materials, seeds, seedlings and planting stock. Also, within the exhibition a seminar on technologies of intensive cultivating agricultural crops and breeding poultry, a roundtable on financing and insuring in agriculture, contests "Best Farmer" and "The Queen of Fields", as well as exhibition of animals and poultry "Animal Show", will be held. Exhibition visitors will have the possibility to buy whatever they need for their farm at accessible prices", said project head Svetlana Ghelan.

According to her, at the MoldAgroTech, the newest tractors, soil-processing and sowing machineries, harvesting and post-harvest processing machinery, loaders, as well as equipment for animal husbandry, poultry breeding, fishing and spare parts, will be presented.

"Leading specialists will tell to agrarians about the protected ground technologies, water supply and irrigation systems, fertilizers and plant protection means, as well as energy and resource saving technologies. Besides the exhibitions, the contest "Novelty of the Year" will be organized and the Day of Youth "AgroGeneration" will be held", she said.