PERSONALITATE ASSOCIATION HANDS IN ITS ANNUAL PREMIUMS TO "PERSONALITIES OF THE YEAR"
23 january, 2018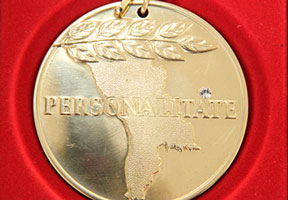 At the 8th grand ceremony held in the National Library of Moldova on Monday evening, the international civil-society association "Personalitate" handed in its annual premiums, "The Person of 2017".

The Association President, satirist literature writer, an Honored Economist of Moldova, Doctor Honoris Cauza, Academician Sergey Yevstratiyev said at the ceremony: "A country's image is created by outstanding personalities, whose achievements form the State's successes. It is necessary to know and respect the people who promote the country's development and progress by their work in various fields".

Prominent Moldovan journalist and literature writer Boris Marian, who conducted the premium handing-in ceremony, highlighted Sergey Yevstratiyev's role played in this non-governmental organization, which has been working for over 20 years to encourage best creative and efficient personalities, to better inform the civil society about these people's achievements and to fix all this in the history of the country.

On the results achieved in 2017, the "Person of the Year" premiums were given to 10 people in various denominations: in medicine – Doctor of Sciences, Academician Stanislav Groppa; in literature – to Chairman of the Union of Writers of Moldova Arcadie Suceveanu; in arts – Director of the Anton Chekhov State Theater Iosif Shatz; in culture – Director of the Mikhail Lomonosov State Library (Chisinau) Margarita Shelchkova; in journalism – Executive Director of the News Agency Infotag Anatol Golea.

For successes in banking activities, the Person of the Year premium was awarded to Antoine Gabizon, President of the Mobiasbanca Groupe Societe Generale; in winemaking – to Anatoly Hmelevschi, Director General of the Wines of Comrat Corporation.

Chairperson of the Russian Culture Society Lyudmila Laschenova received the premium in the "Honor and Dignity" denomination; Deputy Chairman of the Bulgarian Culture Society Ivan Karyak – premium in the "Friendship of Peoples" denomination; and Ambassador Extraordinary and Plenipotentiary of the Russian Federation to the Republic of Moldova Farit Muhametshin has become the Person of the Year in the field of diplomacy.