NATIONAL LIBRARY HOLDING DAY OF JAPANESE CULTURE
19 june, 2018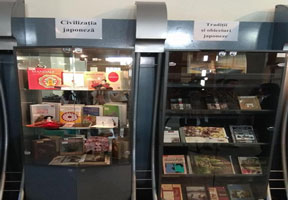 The Moldova National Library has for the first time organized a Day of Japanese Culture on Tuesday, holding a whole range of activities for this.

Ambassador Extraordinary and Plenipotentiary of Japan to Moldova Masanobu Yoshii said that the goal of the exhibition of books about Japanese culture, history, traditions and the exhibition of Ikebana is to gain Moldovans' interest, inspire them to visit the Land of the Rising Sun, as well as to strengthen friendly relations between the two states.

"Culture is the basis of understanding, while Moldova and Japan have good relations in different fields and it would be great to extend these by means of exchange of experience in the field of library science. The impulse was given by Romanian librarian, Wayne State University (USA) professor, Dr. Hermina Anghelescu, who visited Japan and decided to promote its culture through libraries of Romania and Moldova", he said.

According to one of event organizers, librarian Vera Osoianu, the event is unique for the library. She expressed hope that one day Moldovan librarians will also have the possibility to share their experience with other countries, thus promoting the national culture in the whole world.

Also, the conference "Japan: Libraries and Librarians. Interesting Experience for the Republic of Moldova" was held in the library. On Wednesday, the conference will continue in Cahul.