GERMAN GOVERNMENT HELPS TO INFORM RESINA CHILDREN ABOUT TRAFFIC RULES
07 september, 2018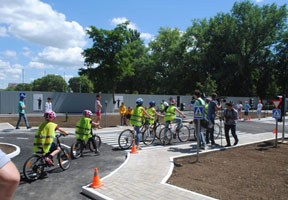 An improvised township where children can learn about traffic rules has opened in the town of Rezina on Friday on funds, provided by the Federal Government of Germany. The opening ceremony was attended by German consul in Moldova Julia Konrad, Chairwoman of the Rezina Raion Eleonora Graur and head of the General Police Inspectorate Alexandru Pinzari.

The German official stressed that the German Government and the police of the Federal Land Baden-Wurttemberg are providing active promotion in modernizing the Moldovan police.

"Over this time, several parties of equipment and vehicles have been transmitted to Moldovan law enforcement agencies, courses and trainings are systematically conducted. A special attention in cooperation with the reformed Moldovan police was given to promoting the safe road traffic movement, especially among children. It is highly important to instill in children's minds the rules of safe behavior in the streets", Konrad said.

According to the official, Germany provided technical assistance worth 300 thousand euros in 2017-2018.

"Investments in modernizing the Moldovan police, improvement of its image in the eyes of the country population will be continued", the Germany representative assured.

Chairman of the Rezina Raion Eleonora Graur said that a large and spacious classroom was provided for strengthening children's theoretical knowledge.

"We are very grateful for such an investment of funds in our raion's infrastructure. In such centers children are acquiring important knowledge useful for life by means of game", the official said.