PRESIDENT DODON ORDERS TO REHABILITATE MONUMENT TO RUSSIA'S OUTSTANDING HISTORIC PERSONALITY
20 march, 2019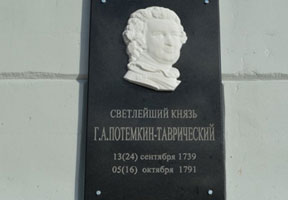 Moldova President Igor Dodon has ordered to repair and to put into a proper order the historic monument to one of the brightest personalities in the history of the Russian Empire - to Prince Grigory A. Potemkin-Tavricheski.

Dodon wrote on his Facebook page on Tuesday: "I have learnt with a great regret about the desecration of the monument to Prince Grigory A. Potemkin-Tavricheski build near the village of Radenii Vechi in the Ungheni Raion in the place where Grigory Potemkin died in 1791 on his way from Iasi [Romania] to Nikolayev [currently Ukraine].

The President requested corresponding technical services to bring the magnificent historic obelisk back into its initial condition within a maximum-possible timeframe, and wrote: "We must know the history of our native land and must prevent such acts of vandalism, for nations that do not know their past has no future".

Prince Grigory Aleksandrovich Potemkin-Tavricheski (1739-1791) was a Russian military leader, statesman, nobleman and favorite of Queen Catherine the Great. He died during negotiations over the Treaty of Iasi, which ended a war with the Ottoman Empire that he had overseen.

Potemkin was born into a family of middle-income noble landowners. He first attracted Catherine's favor for helping in her 1762 coup, then distinguished himself as a military commander in the Russo-Turkish War (1768-1774). He became Catherine's lover, favorite and possibly her consort. After their passion cooled, he remained her lifelong friend and favored statesman.

Catherine obtained for him the title of Prince of the Holy Roman Empire and gave him the title of Prince of the Russian Empire among many others: he was both a Grand Admiral and the head of all of Russia's land and irregular forces. Potemkin's achievements include the peaceful annexation of the Crimea (1783) and the successful second Russo-Turkish War (1787-1792).

In 1774, Potemkin became the governor-general of Russia's new southern provinces. An absolute ruler, he worked to colonize the wild steppes, controversially dealing firmly with the Cossacks who lived there. He founded the towns of Kherson, Nikolayev, Sevastopol, and Ekaterinoslav [currently Dnepr in Ukraine]. Ports in the region became bases for his new Black Sea Fleet.

Potemkin was known for his love of women, gambling and material wealth. He oversaw the construction of many historically significant buildings, including the Tauride Palace in St. Petersburg.