​MOLDOVAN STUDENTS DISCUSS BUSINESS ADMINISTRATION AT 3RD FRANCOPHONIE FESTIVAL
18 april, 2019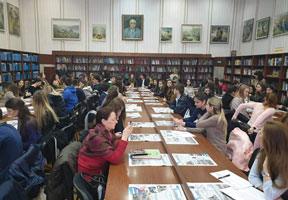 French-speaking students of Moldova are discussing in the Academy of Economic Studies of Moldova the development of leadership skills, the business administration and the financial education within the 3rd French Language Festival.
According to the Francophone University Agency [AUF, Agence Universitaire de la Francophonie], which is the festival organizer, its goal is the promotion and stimulation of studying the French Language.

"All the Chisinau universities are participating in the festival, providing to students seminars, workshops, lectures and debates on topics relevant for the youth. The festival will finish on Friday with a workshop on constructing and programming robots", said AUF representative Olesea Simion.

The festival is annually held with the support of the French Embassy to Moldova and the French Alliance.