​NBM AND EXPERT-GRUP INVITE STUDENTS TO EXCURSION THROUGH BANKS
24 octomber, 2019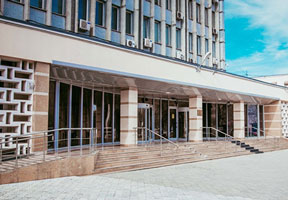 The National Bank of Moldova and the Independent Analytical Center Expert Grup invites schoolchildren and students to learn about "Money Road" on November 4 through 8.
According to NBM representatives, the event is organized on the occasion of the World Savings Day, annually marked on October 31 and will be conducted in cooperation with Moldovan commercial banks.

"Our small trip will start from the NBM office, from where the money come to economy. In the National Bank's exhibition schoolchildren and students will find out the most important events from the history of the Moldovan leu, as well as will be familiarized with bank notes protection elements. "Money Road" will continue in commercial banks. Young visitors will get acquainted with the process of money arriving to these financial institutions and how it is later sent to the real sector of economy", said NBM representatives.

Also, a lesson of financial education will be conducted for participants, where they will find out about the basic financial concepts and products, existing in Moldova.

Study trips through the "Money Road" will be organized on November 4 through 8 starting from 13:00 according to preliminary registration. The applications for participation may be submitted not later than October 25 to the e-mail educatie.financiara@bnm.md or on the NBM's page in Facebook.

The "Money Road" is held within the project of financial education "Experience! Understand the Money", launched in March 2019. The project was initiated for raising young people's awareness about the main concepts and banking products in such a way that they to be able to take correct decisions at administrating their own revenues.