MOLDOVAN FOOTBALL TEAM HAS NEW COACH
29 octomber, 2019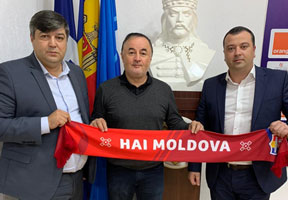 The Moldovan Football Federation appointed a new coach to the Moldovan national team – Engin Firat from Turkey.

This was done after the Federation's Executive Committee terminated the contract with the previous coach Simion Altman, who was acting head coach of the team. The coaching staff regarded Altman's work as unsatisfactory, because the Moldovan football players lost the latest four games in the EURO-2020 qualifying round with the total score of 0:12. As a result, after 8 games Moldova is holding the last place in the group of 6 teams.

Firat may debut as head coach already on November 14 in the away game with France. He is the third head coach of the national football team year to date. Besides Simion Altman, in the first four games of the EURO-2020 the coach staff was headed by Alexandru Spiridon.

Engin Firat is from Istanbul. He is 49. He was head coach and assistant coach in different football teams of Turkey, Iran, Germany, South Korea, the US.