IMF MISSION NOTES PROGRESS IN MOLDOVAN ECONOMIC DEVELOPMENT
30 octomber, 2017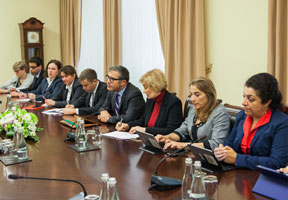 Prime Minister Pavel Filip had a meeting with the mission team of the International Monetary Fund (IMF) led by Ben Kelmanson on Friday.

The IMF Mission Chief said that progress has been noted in certain sectors, but the efforts need to continue.

The group of experts came to Moldova with a two-week visit to take stock of the latest developments in the economy, discuss the long-term outlook and review how the authorities' commitments under the IMF-supported program are being met. The results of the review will be presented in the final report.

The Moldovan Prime Minister talked about key reforms implemented by Government related to the business environment, justice and the social fields. Among Government's mid-term and long term priorities were mentioned education, rule of law and road infrastructure improvement.

Pavel Filip said that Government looks forward to the IMF's support and assistance in important reforms.

Infotag's dossier: The three-year Program with the IMF was approved on November 7, 2016. Within the program, the IMF will allocate to Moldova around US$182 million, US$59 million of which have already been received by the republic.