MOLDOVAN ATTRACTIONS TO BE PRESENTED BY TOURISM CENTER
10 november, 2017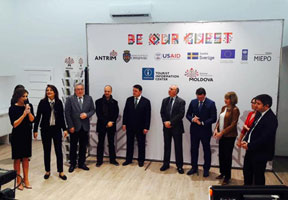 An Information Tourism Center opened in Moldova, which provides consultations to everyone, who is planning to spend their vacation in the republic.

The center organizers said that it provides to visitors information about events, possibilities of accommodation, tourist routes and excursions, including wine tours. Due to the technology of virtual reality, visitors can walk through some routes before buying the tourist package.

The center was founded within the public-private partnership between the Chisinau Primaria and the National Inbound Tourism Association with financial support of the EU program "Support to Confidence Building Measures", implemented by the UNDP, the USAID and the Swedish Government within the Moldova Competitiveness Project.

The cost of the project is 1.5 million lei, 235 thousand lei of which were allocated by the EU, 1.3 million lei - by the USAID and the Swedish Government. Chisinau City Hall provided a room with an area of 100 square meters, promising to cover its maintenance for a period of 5 years.

Deputy Minister of Economy and Infrastructure Vitalie Iurcu said at the Thursday's center opening that Moldova is worth visiting, which is confirmed by the statistics according to which the number of tourists to Moldova grew 70% in 2017.

Ambassador Extraordinary and Plenipotentiary of the USA to Moldova James D. Pettit reminded that his country's Government supports Moldova's tourist sector for already over 5 years, while the opened center replenishes the tourist infrastructure and meets the most important need of tourists - opens the access to information.

Besides the distribution of information leaflets, guidebooks and panorama postcards, the Center will organize art and photo exhibitions, wine tastings.

UNDP Resident Representative to Moldova Dafina Gercheva expressed confidence that centers in Chisinau and Tiraspol will become a great platform for tourism development on both sides of the Dniester river.

According to representatives of the EU Delegation to Chisinau Marco Gemmer, the Information Tourism Center is a clear example of common economic interests of the two sides of the Dniester River and prerequisites for direct cooperation.

Head of the International Cooperation Department of the Swedish Embassy to Moldova Adam Amberg said that the center will become the first stop of tourists when they come to Moldova, it was opened within the campaign "Be Our Guest" and all these will emphasize the legendary Moldovan hospitality.