HUNGARIAN COMPANY TO OPEN TESTING SYSTEM PRODUCTION IN MOLDOVA
10 september, 2018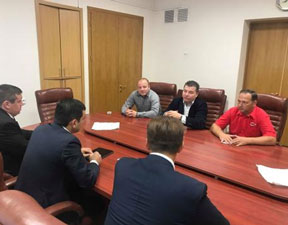 Moldovan Minister of Economy and Infrastructure Chiril Gaburici met with representatives of the Hungarian company "Equip Test" on the occasion of the company arrival to the Moldovan market.

According to the Economy Ministry, a plant on producing systems on testing electronic equipment will start working in Moldova on October 1.

Chiril Gaburici welcomed the arrival of Hungarian investors to the country's markets, promising to them every support.

He said that the Fujikura company, which is consumer of the Equip Test produce, is already working in the Moldovan market.

The Hungarian company representatives said that initially, around 50 jobs will be created for engineers and qualified specialists at the production in the Expo-Business Chisinau free economic zone, while later the number of employees will double.

The Equip Test is a well known manufacturer of testing and measuring systems for printed circuit boards and wiring. Over recent years, the Hungarian company has opened production facilities not only in Hungary, but also in the Czech Republic, Poland, Serbia.