EU TO HELP MOLDOVA IMPLEMENT DCFTA IN FULL
21 may, 2019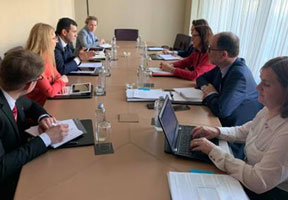 The European Union is a reliable partner for Moldova and is ready to provide to it necessary assistance for implementing the Deep and Comprehensive Free Trade Agreement in full for maximum using of the state.

EU Trade Commissioner Cecilia Malmstrom met with Moldovan Minister of Economy and Infrastructure Chiril Gaburici in Kiev and highly appreciated the fact that Moldova within the framework of cooperation with the EU identified, developed and is promoting initiatives on trade development.

In his turn, Gaburici said that since the DCFTA has entered into force in 2014, cardinal changes occurred in Moldova's foreign trade, the EU became its main trade partner, for which 70% Moldovan exports and 50% imports account.

"Due to the EU, we managed to create conditions for sustainable development of the republic. We will keep working in this direction and observe the adopted liabilities", he assured.

The sides also discussed the way of reforms in Moldova on canceling the technical barriers in trade, the possibility of raising the export tariff quotas for Moldova to the EU, the adopted measures for ensuring intellectual property rights.

The meeting took place on the margins of the Second Eastern Partnership Ministerial Meeting for Trade with participation of EaP countries representatives – Georgia, Moldova and Ukraine.