POLAND SHARING EXPERIENCE WITH MOLDOVA IN PENSION INSURANCE AND PUBLIC PROCUREMENT
12 june, 2019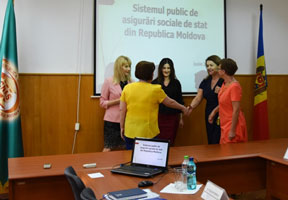 Delegation of the Social Insurance Institution of Poland is paying a visit to Moldova for experience exchange in the field of pension insurance and public procurement.
According to the National Social Insurance Fund (CNAS), the Polish colleagues visited the institution on the basis of the Protocol of cooperation in social insurance, signed by the two agencies in 2009.

Delegations shared opinions about systems of social insurance and the conducted reforms. CNAS Deputy Chairman Alexei Sici informed guests about the process of reforming the Moldovan pension system, which started on January 1, 2017 on the basis of the Polish experience.

During the visit, the Polish delegation will also visit the town of Soroca to get acquainted with the providing of public services at the local level.