MOLDOVAN RESTAURANTS CLOSE FOR 30 MINUTES ON MONDAY IN PROTEST AGAINST VAT RAISING
12 august, 2019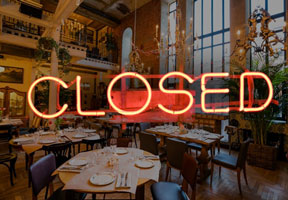 Some restaurants, cafes and entertainment establishments in Moldova suspended their activity for half-an-hour on Monday in protest against the raising of the VAT to 10% for 20% for this segment of the national economy.

The initiative came from the National Association of Restaurants and Entertainment Establishments (MAR) that regards as unjustified the Government's decision to return the standard VAT of 20% for the hotels, restaurants and entertainment establishments (HoReCa).

According to the association head Aneta Zasavitschi, this will make loss-making the activity of the HoReCa establishments and many of them will be closed, while workers will swell the ranks of those who are leaving Moldova to seek a better life abroad.

"We apologize to our guests for the caused inconveniences. We will fight till positive results! Only together we can succeed! We want to live and work in our home country!", the association's leadership wrote in social networks.

They warned that their next step will be a protest on Tuesday already in front of the Parliament. In this way, the protesters hope to convince deputies, though they are in vacation currently, to renounce adopting these amendments to the tax legislation, which have already been approved by the Government.

Before, Minister of Finance Natalia Gavrilita stated that the tax relief for the HoReCa was not the best decision.

"I disagree with the practice of lowering taxes in the field of consumption. The relief must be provided in spheres where we want to encourage the production sector, the exports and these exceptions must be connected with the vision of developing the country and the people", she stated.

It was supposed that the VAT lowering will contribute to removing of HoReCa establishments from shadow and, as a result, the growth of revenues from them to the state budget. However, this has not happened. According to the Ministry of Finance, in January-May, 782 economic agents paid 22 million lei less in the form of VAT against the equivalent period of the last year, though the volume of sales grew 30%.