MOLDOVAN AND UKRAINIAN ENERGY REGULATORY BODIES TO EXTEND COOPERATION IN 2020
28 november, 2019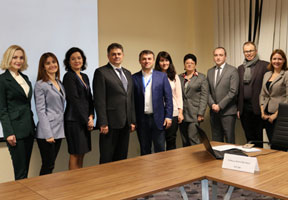 Director of the Moldovan National Energy Regulatory Agency (ANRE) Octavian Calmic and new Chairman of the Ukrainian National Commission for State Regulation in Energy and Public Utilities Valery Tarasyuk met in Chisinau on Wednesday and agreed to sign a cooperation agreement and a joint action plan for 2020.
According to the ANRE, the two officials discussed the cooperation and establishing best solutions between electricity transmission operators, including for resolving the problem of unplanned power overflows, balancing of the electricity systems and regulation of relations at the level of the two countries' systemic operators on the basis of principles and values of the Energy Community and the European Union.

The interlocutors exchanged experience in relation to the development of legal system of branch regulation, the applying of the rules of electricity market and the process of general market liberalization. The Ukrainian side expressed openness for extending the bilateral cooperation to ensure the functioning of markets without interruptions in electricity supplying.

Calmic informed the interlocutor about the process of negotiations with the Russian authorities on the natural gas supplying to Moldova, the alternative solutions and the existing technical opportunities for ensuring the domestic market with natural gas, as well as its possible transit through Balkan corridor.

According to him, currently the Moldovagaz and partners from European countries are seeking alternative ways of delivering natural gas, establishing technical and infrastructural conditions, as well as legal frames necessary for regulating these transactions.

A separate topic of discussion would be the fulfillment of liabilities, adopted by Moldova on separating companies, engaged in natural gas transportation and distribution.