MOLDOVA'S LARGEST DIGITAL PARK LAUNCHED IN CHISINAU
06 december, 2019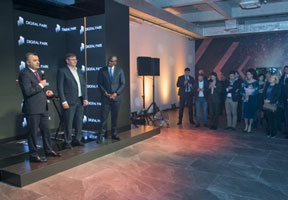 The Grand Opening of a new informational technologies park "Digital Park" took place in Chisinau on Thursday.
According to the Government, Prime Minister Ion Chicu said at the ceremony that this project is revolutionary, it creates many jobs with great working conditions.

"The sphere of informational technologies is an important one in the process of modernizing the national economy. I am sure that these 1 thousand highly professional employees will bring profit both to companies and the country", he said.

The premier expressed gratitude to the park leadership for the efforts and welcomed the support, provided by Moldova's development partners to the project.

"Due to your investments, you gave possibility of employment and a great number of people remained in the country. I am sure that such projects can be implemented in any other locality of the republic", said the head of the Government.

The Digital Park project was launched in October 2016 by the StarNet Company. It is located in an 8-storey building in the Chisinau downtown and has a total area of 8.35 thousand square meters. The main goal of Digital Park is to develop new technologies and to attract investors in the IT sector of Moldova. Around 10 companies, including foreign (from the US, Romania, France) are already working as residents in the park. They are engaged in creation and maintenance of software, innovative projects, outsourcing.