AUSTRIAN COMPANY RAISING INVESTMENTS INTO BALTI FEZ
11 december, 2019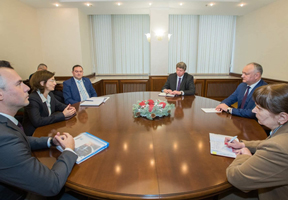 The company with Austrian capital Gebauer & Griller (GG Cables & Wires EE), which is working in the Balti Free Economic Zone, will extend its production and will raise the volume of investments.

On Tuesday, the company representatives met with President Igor Dodon.

The head of state wrote on his Facebook page that the company decided to extend its production at the additional territory of 5 thousand square meters, after which the total volume of investments will exceed US$50 million. Due to this, 650 jobs with average salary of over 10 thousand lei are created in the north of Moldova.

The Gebauer & Griller (GG Cables & Wires EE) is a large producer of cables and wires for automotive industry, for production of lifts and escalators and for other industrial needs. It has plants in Austria, Germany, Poland, the Czech Republic, Moldova, the US and other countries. In Moldova the Gebauer & Griller has already invested over 40 million dollars, invested both in building works and in the modern equipment.

"The presidential administration in close cooperation with the Moldovan Government will keep making necessary efforts for attracting direct foreign investments and supporting the domestic businesses", Dodon stressed.