MOLDOVA CANNOT COUNT ON EU MACRO-FINANCIAL ASSISTANCE THIS YEAR – PREMIER FILIP
06 octomber, 2017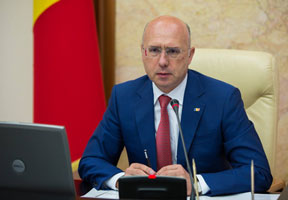 In 2017, Moldova will not receive the European Union's promised financial assistance, Prime Minister Pavel Filip stated on the local television on Thursday night.

"But the money will necessarily come next year", assured the premier. "We have already introduced amendments to the 2017 State Budget and excluded the initially expected EU financial assistance. But in the absence of the European Union's money, our planned investment projects should not suffer. The thing is, we have mobilized and organized our economy in a way that Budget revenues should grow more than we have projected", said Pavel Filip.

In his words, this year the Budget revenues have already exceeded by 4 billion lei the revenues received in the equivalent period of 2016.

The premier explained that in order to receive the above-mentioned 100 million euros from the European Union, the Government must fulfill 30 conditions.

On Thursday, Minister of Finance Octavian Armasu also stated to journalists that Moldova cannot count on the EU assistance coming this year, though the Law on the 2017 State Budget initially envisaged the arrival of first 2 tranches from the said assistance sum. Now the Government has to make appropriate amendments in the Budget.

Armasu explained: "As the process of approving the tranches will be fairly long, the procedure of signing by the Government of the Agreement on the macro-financial assistance between Moldova and the European Union and its ratification by the Parliament will take time, too, so Moldova will not be able to fulfill all of the said conditions this year for receiving the first tranche. We hope for fulfilling all the conditions at the beginning of 2018".

As already reported by Infotag, earlier this year the Moldovan Government authorized the minister of finance to sign the Agreement on receiving the 100-million-euro macro-financial assistance from the European Union in 2017-2018. On July 4, the European Parliament approved the decision to furnish this assistance, of which 60 million euros is to come as credits and 40 million – as grants.

However, later in July the Moldovan Parliament ignored the recommendations of the European Union and the Venice Commission of the Council of Europe concerning the inadvisability to change the current [proportional] electoral system in Moldova. In this connection, on October 3 the European Parliament held hearings on the situation in Moldova, during which the republic was strongly criticized for such changing of the electoral system, and proposals were made to suspend the provision of the macro-financial assistance or to toughen the conditions of providing it. The European Parliament will adopt its Resolution on the issue in November.