NEW EBRD COUNTRY REPRESENTATIVE INTRODUCED TO MOLDOVAN AUTHORITIES
15 february, 2018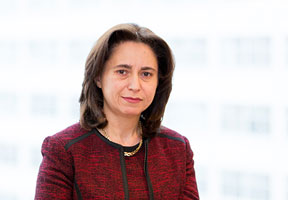 Banker from Armenia Angela Sax was appointed as new European Bank for Reconstruction and Development Country Representative to Moldova. She was introduced to Moldovan authorities by EBDR President Suma Chakrabarti, who is paying a visit to Chisinau, and will assume her duties starting from April.

Angela Sax said that it is a great honor for her to get this post.

"Moldova is an entertaining country and I hope to be able to influence the development of talents and the local potential. On the basis of the achievements of my predecessor Dmitry Gvindadze, we will keep supporting Moldova by means of investments and policies. We hope to make sure that the financing we can propose is being used most efficiently", Sax said.

Angela Sax is senior banker. In May 2006 she became member of the EBRD Office in Armenia. Lately, she was Acting Director of the EBRD Office in Armenia. Sax graduated from the University of Foreign Languages in Yerevan and got MBA in Business School of Nottingham University. She participates in the 2004 Senior Executive Fellows program in Harvard University. Before coming to the EBRD, she worked in the Armenia Tourism Development Agency and in American company for private sector development "Sibley International Corporation". In Moldova, Angela Sax will replace Dmitry Gvindadze, who was appointed Director General of the EBRD Office in Armenia. Over the time of its work in Moldova, the EBRD registered a record growth of financing - 130 million euros only in 2017. In January 2018, the EBRD managed to achieve a breakthrough in the banking sector, when the Banca Transilvania became shareholder of the Moldovan Victoriabank. This became the first investment in the Moldovan banking sector over the last 10 years.