GOVERNMENT ALLOCATES 6.8 MILLION LEI FOR BUYING APARTMENTS FOR RESIDENTS OF COLLAPSED HOUSE IN OTACI
22 august, 2019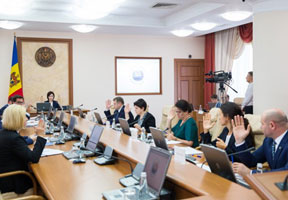 The Government will provide 6.8 million lei (US$383 thousand) for compensating the damage to residents of the house, a part of which collapsed in Otaci on June 19. A corresponding decree was adopted by the Cabinet of Ministers on Wednesday.

Minister of Economy and Infrastructure Vadim Brinzan said that the entire building will be demolished, while residents of the remaining 35 apartments will receive compensations on the basis of the report on assessing the building condition, prepared by Moldova Technical University.

Prime Minister Maia Sandu stressed that people who suffered losses directly in the collapse already received money for buying housing, while in this case it is about the rest of the building which is in a state of disrepair.

Infotag's dossier: A section of an apartment building collapsed in Otaci town (Ocnita raion) on June 19. Residents were evacuated beforehand. On the basis of damage assessment, on July 26the Government provided 6.7 million lei for compensating the cost of collapsed apartments and 2 million lei more as compensation of material damage.