MOLDOVA HAS PREREQUISITES FOR ATTRACTING INVESTMENTS - JAPANESE AMBASSADOR
15 november, 2019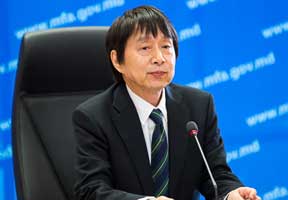 There are all the necessary prerequisites for fruitful cooperation between foreign investors and various branches of Moldovan industry to stimulate the growth of investments, said Ambassador Extraordinary and Plenipotentiary of Japan to Moldova Masanobu Yoshii within the Moldova Business Week 2019 on Thursday.

According to him, besides the free trade regime between Moldova and the EU, the financial stimuli of its free economic zones and a profitable geographic position, one more considerable advantage that attracts foreign investors is the Moldova's human capital.

"I hope the new Government understands that by means of guaranteeing the supremacy of law, creating an attractive climate for investments, it can achieve their main goal - to ensure prosperity to citizens", the ambassador stressed.

The Japanese diplomat pointed at the importance of internationalizing the businesses, as it becomes increasingly important for producers to expand their activity and approach the issued products to consumer. For achieving this goal, Japanese producers are bringing the production capacities closer to the market.

"The automobile industry and related activities have a great importance for Japan. Almost 5.5 million people are working in this sector. In 2017, around 20 million cars were assembled by Japanese producers abroad - in Asia and Europe. This means that more jobs are created abroad. As the production of cars depends on global supplying chains, a fair and open business environment, should be created that would contribute to trade and investments", the diplomat said.

Infotag's dossier: Japan is one of the main sources of investments in the Moldovan automobile industry. Two Japanese companies - Sumitomo and Fujikura - have opened their plants on producing automotive wire harnesses in country's free economic zones. Over the recent several years, the Sumitomo invested 30 million euros in opening of a plant with 2.5 jobs, while Fujikura invested 20 million euros and created almost 2 thousand jobs.