PROSECUTOR GENERAL SAYS THAT EVEN 5 YEARS AFTER BANK FRAUD, IT REMAINS WITHOUT LEGAL ASSESSMENT
27 may, 2020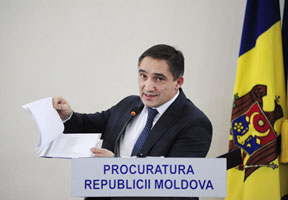 Until now, i.e. 5 years after the one-billion-dollar bank fraud, this tremendous crime is remaining without a legal assessment, Prosecutor General Alexander Stoianoglo stated on the local television on Tuesday night.
In his words, problems in Moldovan banks concerned began in 2012.

"A very bad role in all those processes was played by the National Bank (NBM), by its then-leadership and a considerable part of state institutions, which just did not notice what was going on", said the Prosecutor General.

According to him, the culmination of the bank theft occurred in November 2014, when Banca de Economii [BEM, savings bank] and Banca Sociala, being in fact bankrupts, issued credits totaling 13 billion lei without pledges to companies that did not run whatever economic activities by then.

Stoianoglo perceived the role played by officials then as "abuse of position and irresponsibility".

"I don't want to quest for offenders. But bankers have two options to choose from: either they collaborate with the investigation, or they will be offered extra charges, and their cases will be sent to the court", Alexander Stoianoglo said, and stressed: "All of them shall be brought to justice".