EBRD BUYS 25% SHARES OF VESTMOLDTRANSGAZ - SUBSIDIARIES OF TRANSGAZ (ROMANIA) IN MOLDOVA
01 september, 2020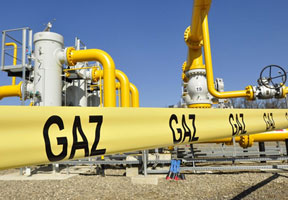 The European Bank for Reconstruction and Development (EBRD) bought a 25% stake in the Moldovan company Vestmoldtransgaz, a subsidiary of Transgaz (Romania), for 20 million euros.
By purchasing a 25% stake in Vestmoldtransgaz, which manages the new Ungheni-Chisinau gas pipeline, the EBRD "strengthens the energy security of Moldova".

Vestmoldtransgaz, founded in 2014, owns and operates a gas pipeline network in western Moldova. It offers natural gas transportation services. In 2018, it was bought by Eurotransgaz, a Transgaz subsidiary that operates a natural gas transportation system in Romania.

The Iasi - Ungheni - Chisinau gas pipeline, commissioned at the end of August, connected two gas transmission systems of Moldova and Romania, becoming an alternative source of natural gas for Moldova, 90% of which the republic receives from Gazprom.

The construction of the pipeline which amounted to 90 million euros was supported by a 38 million euros loan from the European Investment Bank (EIB) and an investment from Eurotransgaz.

In 2016, the EBRD offered a loan to support the Iasi - Ungheni - Chisinau gas pipeline project. After the privatization of Vestmoldtransgaz (acquired by Transgaz) by the Moldovan government, funding was discontinued and the money is now offered as a share in the company's capital.

Transgaz acquired Vestmoldtransgaz in 2018 as a single property complex, including the Moldovan part of the Iasi - Ungheni gas pipeline for 180 million lei (US $ 10 million) with an investment condition of 93 million euros. They were necessary to extend the Iasi - Ungheni gas pipeline to the capital of Moldova, Chisinau, which is the main consumer of natural gas.

The EBRD is the main institutional investor in Moldova.

Since coming to the Republic of Moldova, the bank has invested more than 1.3 billion euros in 134 projects of the financial, agro-industrial, energy, infrastructure and manufacturing sectors of the Moldovan economy.