​ACTIONS AGAINST MOLDINDCONBANK ARE BUT CLASSICAL RAIDER ATTACK – VEACESLAV PLATON
03 november, 2016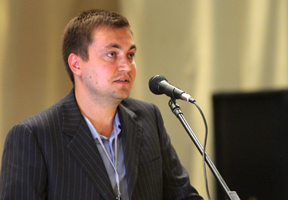 Prominent Moldovan businessman Veaceslav Platon, who is suspected by the Moldovan Prosecution service of committing financial violations and who is currently under a preliminary arrest, agreed to answer Infotag's question passed to him through his lawyers. Platon, being a Moldindconbank shareholder, presented his opinion about the introduction by the National Bank (NBM) of an interim external administration in the MICB [Moldovan Industry and Construction Bank], the change of the MICB leadership, and the rightfulness of the actions of some Moldovan state power institutions.
Infotag: Mr. Platon, what do you think of the blocking by the NBM of 63.89% of MICB shares and about the introduction of an interim administration in the Moldindconbank?
Veaceslav Platon: "The imposition by the central bank of the ban on nearly 64% MICB shares was an action projected yet long ago. It was the continuation of the memorable ban on 40% Moldova Agroindbank (MAIB) shares. There is only one difference between them: in the latter case, the President of the MICB Board, Leonid Talmaci, was replaced with the incumbent administrator – Mr. Cincilei. The thing is, Mr. Talmaci is the kind of a person who just cannot be commanded by anybody. That was why it was necessary to appoint somebody reliable and obedient instead of him.
This is a classical raider attack, for which the Republic of Moldova will be paying yet very long – paying a high price. Mr. Plahotniuc has come to control MAIB, MICB and Victoriabank: namely in Victoriabank he controls nearly 40% through the Insidown Company, and in MAIB and MICB he controls only their leaderships.
He has initiated many legal actions, locked up many employees – and here you are, the new administrations are like putty in his hands, ready to fulfill any orders. An analogous scheme is used at control of state enterprises. De jure, they belong to the state, but de facto their master and commander is Plahotniuc. The theft of the billion euros from Moldovan banks was but a light warm-up before a real job – forthcoming new robberies.
I am simply shocked with the cynicism of the NBM leadership who, without caring about the law, are blocking the shares of efficient owners that developed the MICB last 20 years. At the same time, the NBM leadership is absolutely not reacting to Plahotniuc's dummy – Mr. Lobanov, who formally owns 40% of Victoriabank shares. By the way, these shares were bought for the money [billion] embezzled from Banca de Economii [BEM, savings bank]. Moreover, Lobanov, hiding behind VEB Capital, possessed 25% BEM shares. Hey, Mr. Cioclea! [Sergiu Cioclea is President of the National Bank of Moldova] How about your conscience? Better a transparent thief than the efficient shareowners incomprehensible personally to you?
The NBM, echoing IMF demands, pretends to stand up for transparency. But what transparency can one speak about in a Mafiosi country where the right of private ownership is but an empty phrase, where all organs of state power are subdued to a dictator who personally, proceeding from his own interests and ambitions, determines who is right and who is guilty, arresting everybody he likes. And his obedient law-enforcement system of Moldova plays the role of a bouncer. The IMF may try – with the same degree of success – to introduce the principle of transparency in, say, Somalia or Islamic State.
The transparency principle can be applicable only in the conditions of a well-settled legal culture. You would certainly agree: it is impossible to imagine that, for instance, one fine day Angela Merkel or Francois Hollande would start capturing, in a raider-attack manner, a bank in Germany or France and even several banks simultaneously. And what a scandal would break out if, for instance, Barack Obama or Klaus Iohannis will embezzle 13% GDP in the United States or in Romania! Do you really think that after having robbed a billion euros from their citizens, they would continue sitting at their high posts as if nothing has happened?
One should not treat all patients with one tablet. It is necessary to proceed from local specifics. I'll tell you more: in all civilized countries, central banks first meet with shareholders, talk, put forward claims, try to achieve compromises and ways out of any thorny situation.
And whom did you meet, Mr. Cioclea? Did you calculate possible consequences? The country's two largest banks have lost all shareholders! None of decent shareholders (I am not speaking of bandits now) is willing to become shareholders in these banks.
Currently, all illicitly blocked MICB shareholders are preparing claims for recovery of their lost capitals. All these claims will be submitted in countries where Moldovan banks have correspondent accounts. The shareholders will never surrender and believe me – they will bring home the bacon! They will get their shares back and will receive money as compensations because what the National Bank has done is illegitimate.
You, ladies and gentlemen from the National Bank, and your master Vlad Plahotniuc – you all live for the day. But tomorrow will necessarily come. I was watching with regret the degradation of Dorin Dragutanu [previous President of the National Bank]. He was a modest and decent auditor before, but over 6 years of his NBM presidency he was converted into a thief, and people spit in his back now. You are in the hands of particularly sophisticated professionals of dirty deeds. And believe me, they will necessarily break you down and bring you to a result that will horrify you – in the nearest future".
He is not correcttly bussiman!