CHINA AND MOLDOVA HAVE POTENTIAL FOR ENLARGING TRADE – AMBASSADOR ZHANG YINGHONG
28 november, 2017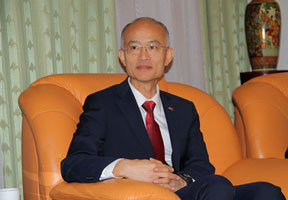 The great China and the small Moldova have large reserves for raising trade and mutual development. The Free Trade Agreement, which is currently being elaborated in Beijing and Chisinau, is aimed at becoming a firm basis for this.

Interview of Ambassador Extraordinary and Plenipotentiary of China Zhang Yinghong to Infotag News Agency Alexandru Tanas

Interview's part 1 of 3. Moldovan exports to China grew more than three-fold over recent years

Question: Your Excellency, the Chinese economy demonstrates stability, develops and sustainably grows. For example, the GDP growth accounted for 6.9% as of the end of 3Q2017. How China manages to do this?

Answer: Against the background of world economy rehabilitation, permanent decline of international trade and sharp structural problems in the country in the first three quarters of 2017, the growth of Chinese economy accounted for 6.9%. The reasons for this are first of all, the permanent innovation of macroeconomic regulation model, stable monetary policy for rational functioning of the economy. In 2016, enterprise taxes fell by 570 billion yuans (approximately US$91 billion), which weakened the enterprises' burden, improved the conditions of their administration and development.

Secondly, the growth is conditioned by new driving forces due to the political reforms and openness, permanent simplification of administrative procedure and transferring of powers to lower levels, reduction of permits for administrative businesses, service optimization.

The third reason is the stimulation of massive entrepreneurial and innovative activity of masses. In the first three quarters of 2017, the number of newly-registered enterprises accounted for 4.51 million, growing 12.5% against the equivalent period of 2016. On average, 16.5 thousand enterprises were registering daily.

The fourth is that the growth is mostly based on active prevention and liquidation of risks, deepening of financial reform with permanent improvement of the modern system of finance market administration, active and sustainable development of multidisciplinary capital market, stimulation of enterprises merger and reorganization.

Q: Recently, the 19th congress of the Communist Party of China (CPC) took place. How important are the decisions, taken there, for the party and the country? Which are the party's plans concerning the Chinese economy development?

A: The CPC has set the "Two Centuries" goal. By the 100th anniversary of the party, it is planned to build a well-off society, in which the economy becomes more developed, democracy – better, science and education – more progressive, culture – more prosperous, the society – more harmonious, while people's live – more comfortable.

Q: How can you characterize the current state of trade relations between Moldova and China, and how do you see them in the nearest future?

A: Over the last 25 years, since diplomatic relations between the two countries have been established, trade turnover keeps growing with each coming year. In 2016, it accounted for US$408 million, accounting for 6.8% of the total volume of Moldovan external trade. China is now at the 6th place among the countries, which are trading with Moldova and the third – in terms of Chinese goods' exports to Moldova.

Over the last five years, Moldovan exports to China grew to US$14.5 million from US$3.8 million, increasing by 3.8 times. Imports from China to Moldova account for around US$400 million. These figures demonstrate a great potential for economic cooperation between our countries, especially in what concerns Chinese investments in Moldova and Moldovan exports to China. Currently, the two countries are actively studying the positions in holding negotiations concerning free trade. I am sure that the free trade agreement will for sure provide to both sides more opportunities and comfortable conditions for fruitful cooperation in the nearest future.

Q: How are things going with the preparation of the Moldova-China Free Trade Agreement?

A: The conducting of negotiations on FTA is an important strategic decision of the two countries' Governments. In December 2016, both sides started feasibility studies and this work was completed in May 2017. After the implementation of internal procedures, the sides will start negotiations in the nearest time. I am sure that in future, the FTA will provide to our countries' economic agents more interests, in particular it will stimulate Moldovan exports to China.
Interview's part 2 of 3. China is interested in Moldovan wine promotion on its market

Q: Moldovan winemakers have potential of bottling 350-500 million bottles per year. They dream to raise wine exports to China. What should winemakers keep in mind, relying on the huge Chinese market? What else, besides wine, may be exported to China from Moldova?

A: Wine production is one of the main industrial productions. I have to say that since 2 thousand, Moldovan wine exports to China grew several times. I personally saw Moldovan wines in Chinese shops, Moldovan wines are very competitive both in terms of quality and in price.

China is a large wine consumer, it is a huge market for Moldovan wines. I often laugh with Moldovan colleagues that had each Chinaman drunk a bottle of Moldovan wine per year, Moldovan wines would have become deficit. To be honest, Moldovan wines are not very spread in China. I propose that Moldovan enterprises to more actively promote their goods on Chinese market. Various exhibitions of food and wine will be organized in China, Moldovan enterprises should more often participate in such exhibitions and seek more opportunities for cooperation.

Besides wine, export of agricultural goods to China also has a great potential - for example Moldovan nuts, honey, sunflower seeds are of high quality and are inexpensive. China is a largest market. Moldovan business people should come to China more often, seek good possibilities for partnership with Chinese colleagues. We, the Embassy, are ready to contribute to establishing lasting contacts with Chinese partners.

Q: In your opinion, what should happen in the Moldovan economy in order that Chinese investors to pay attention to it and direct investments here?

A: Currently there are great opportunities for establishing investment cooperation between China and Moldova. From my point of view, there are two main factors, which negatively influence the investment activity of Chinese enterprises as applied to Moldova. On one hand, Chinese economic agents do not have complete picture and enough knowledge about Moldova, including the general political, economic and social situation in the republic, as well as the politics of Moldovan state in attracting foreign investments.

On the other hand, though Moldova has potential, there is also a need to improve infrastructural conditions, production complexes, public services, as well as to strictly abide by and execute the law. I recommend taking several measures for stimulating investment cooperation with potential Chinese investors.

First of all, the propaganda should be strengthened and diversified, Chinese enterprises should be familiarized with the situation in priority fields of the Moldovan economy. Moldova has to demonstrate market potential and investment policy attractiveness, taking care that as many Chinese businessman as possible to familiarize with Moldova, which potentially may contribute to arrival of new Chinese investments to the Moldovan market.

Secondly, the infrastructure building should be accelerated, the transporting conditions, port building and airport logistics should be improved for providing favorable conditions for investment activities in Moldova.

Thirdly, it is necessary to stimulate the development of the basic and accompanying branches and sectors of the Moldovan economy, which will help creating basis for Chinese investments. I am sure that by means of joint efforts of the two sides, the investment cooperation will only be deepening in future.

Q: How do you assess the last Chinese projects, implemented in Moldova, what is their paramount importance?

A: Since the moment of establishing diplomatic relations with Moldova, the Chinese side was mostly implementing projects of assistance, including, for example the systems of road traffic supervision, providing of special equipment and technique for customs examination, medical instruments and office devices, building Chinese medical center and many others.

The implementation of these projects has a positive role in stimulating socio-economic development of Moldova. These projects had practical benefits for the Moldovan people. China and Moldova are good friends and reliable partners. The Chinese side is ready to continue cooperation in various fields, contributing to joint prosperity and development of the two countries.

Interview's part 3 of 3. Relations between Chinese and Moldovan people are basis for sustainable development of cooperation between two countries.

Q: In 2013, Chairman of the People's Republic of China came with the initiative "One Belt, One Road", proposing a modern global project, which would follow the Great Silk Way. In your opinion, in which perspective spheres of this project Moldova and China may successively cooperate?

A: The "One Belt, One Road" initiative is an important step, taken by China for establishing all-sided cooperation at the new stage of world development. The goal of this initiative is to strengthen exchange and cooperation with different countries on the Silk Way for stimulating joint development and benefitting of results of this development. After Chairman Xi Jinping proposed this initiative, the cooperation between China and other countries is permanently strengthening, opening real interests to the countries on this way.

In May 2017, Moldovan Deputy Premier, Minister of Economy and Infrastructure Octavian Calmic participated in the international cooperation forum "One Belt, One Road". The Moldovan side shows interest to participation in building the "One Belt, One Road". I believe that both sides within the initiative may focus on the following directions.

First of all, the bilateral trade and economic cooperation should be strengthened, new points of trade turnover growth should be continuously discovered and the trade structure should be further optimized. It is necessary to hold active negotiations on Moldova-China free trade agreement and sign this agreement as soon as possible to create favorable conditions for trade and economic cooperation.

Secondly, both countries should strengthen cooperation in the field of infrastructure. Moldovan infrastructure needs urgent improvement, while China has a rich experience in the field of infrastructure, thus the mutual supplementing each other in this sphere is highly efficient. I hope that the Moldovan Government will be supporting the cooperation between the Governments for financing and using soft loans from the Chinese Government for prompt implementation of infrastructure projects for electrification of highways and railroads.

Thirdly, it is necessary to establish cooperation in the field of new types of energy. Moldova mostly depends on importing traditional petroleum resources, such as oil and natural gas, but, at the same time the republic is rich in opportunities of getting wind and solar energy. China has a rich and successful experience in developing and seeking new energy sources, thus both countries may continue discussing and strengthen cooperation in this field.

Q: Your Excellency, how did you assess the humanitarian cooperation of two countries and its role in developing bilateral relations?

A: The cooperation in the field of culture is an important component of the China-Moldova relations. Over last years it has been growing and developing with each passing day. The number of artistic groups, exchanged between our countries, is permanently growing. China is sending its groups for participation in the festival of spring flowers for already several years. Their concerts and performances were received very well by Moldovan people. In the field of education, China and Moldova annually exchange 20 students. Currently, negotiations are held on signing an agreement on mutual recognition of training courses, higher education diplomas and academic degrees.

In 2009, the Confucius Institute was created in Moldova. The number of its graduates exceeded 4.2 thousand people. In this way, the institute became an open window, which allowed Moldovan people to familiarize with the Chinese language and culture. In the field of healthcare, China built the Center of Chinese Medicine in Chisinau in 2010. Since then a great number of patients benefited from its services. The center enjoys high appreciation and good feedback from the Moldovan people.

Relations between the two countries depend on relations between the people, while good relations between the people are based on mutual understanding. Our countries should continue strengthening cultural cooperation, found a firmer and more durable basis of healthy and sustainable development of China-Moldova relations.

Q: Thank you for the interview, Your Excellency!