PASCAL LE DEUNFF AND ANGELA GANNINGER: CONVERGENCE IS KEY WORD OF NEW FRANCO-GERMAN TREATY
22 january, 2019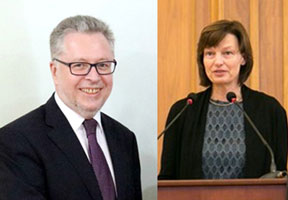 Today, on the occasion of the 56thAnniversary of the signing of the Elysee Treaty between France and Germany, a new Franco-German Treaty is to be signed by President Emmanuel Macron and Federal Chancellor Angela Merkel in Aachen, a city with a European history dating back to Charlemagne. In an exclusive interview with the Infotag news agency on the eve of the signing, French and German ambassadors to Moldova, Pascal LE DEUNFF and Angela GANNINGER, spoke about the importance of the new treaty, its main objectives and impact on the European community, as well as German-French cooperation in Moldova.
INFOTAG: Mr and Mrs ambassadors, why was a new treaty between France and Germany needed? Does it replace the Elysee Treaty?
Pascal LE DEUNFF:In January 2018, French President Emmanuel Macron and Federal Chancellor Angela Merkel agreed to negotiate a new, ambitious Franco-German friendship and cooperation treaty that establishes a new level of bilateral cooperation.
It does not replace the Elysee Treaty, but complements it by adapting our joint cooperation to the challenges of the 21st century and by placing it under the sign of strengthening the European project.
In 1963, when the Elysee Treaty was signed, the main goal was reconciliation after rivalries and conflicts between the states that had lasted for centuries.
In 2019, our main goal is convergence in a European integration perspective: convergence of our economic and social models, of our positions on the international arena and of regulations in our common border areas. So the key word is convergence.
The signing of this new Treaty takes place in a difficult context marked by international tension, questioning of multilateralism and international order collectively built since 1945, conflictual situations in our neighborhood, Brexit and the rise of nationalistic rhetoric in Europe and in the world. Today, there are new challenges to be tackled, which did not exist in 1963.
This new Treaty is a tool to be used by France and Germany to be more efficient, committed and coordinated for a stronger European Union.
INFOTAG: What are the main objectives of the new Treaty?
Pascal LE DEUNFF:The new Treaty has two main purposes. The first purpose is to recall solemnly our common attachment to such principles as the rule of law, multilateralism, a shared responsibility to strengthen a sovereign, united and democratic European Union, a commitment to an open and fair international trade, based on rules and reciprocity.
The second purpose is to set the course of the Franco-German cooperation for the decades to come in terms of shared goals and working methods. The Treaty lays basis for concrete cooperation projects and for further rapprochement between our societies and citizens.
INFOTAG: Ensuring peace and security are two big challenges today. How can this treaty help achieve these goals?
Pascal LE DEUNFF: Europe, and within Europe the Franco-German couple, have today an obligation to act in order not to let the world slide into chaos and to accompany it on the path of peace. Under this agreement, France and Germany will develop joint strategies for strengthening the European Defence Union, for a close partnership with Africa, for peacekeeping and police operations and for closer coordination in international organizations, especially within the UN. A Franco-German Defence and Security Council will be established as a political steering body for cooperation on security issues.
INFOTAG: What others areas does the treaty cover?
Angela GANNINGER: The treaty also focuses on boosting cooperation in the culture, education and research, language training across the border, civil society, digital platforms and media cooperation projects which did not exist in 1963. One of the ideas is to create a common media space in Europe.
The treaty also aims at promoting regional and cross-border cooperation.In particular, in border areas, we will jointly develop innovative European solutions that promote better European integration.
The treaty also refers to cooperation in sustainable development, climate change, environment and economic affairs. To make our economies more competitive, we will increasingly coordinate our economic policies and establish a Council of Economic Experts that will make recommendations to both governments.
The last but not least, the members of the French and German parliaments will meet on 22 January in festive sessions in Berlin and Paris with delegations from the other parliament. Cooperation between the two parliaments is a new element which was not in the Elysee Treaty.
Pascal DEUNFF: A Franco-German Parliamentary Assembly with 50 French and 50 German members will be created. It will formulate proposals aimed at favoring the regulatory convergence between our two countries.
INFOTAG: What impact could this treaty have on the EU, the key drivers of which Germany and France are?
Pascal LE DEUNFF:Our bilateral cooperation is designed to advance the European project. Cooperation between France and Germany is never meant to exclude others, but rather remains open for all EU member states. Both countries hope that new models of bilateral cooperation can serve as a nucleus for European cooperation. When France and Germany speak the same voice, Europe can go forward.
We want to accelerate and strengthen cooperation between the two countries in different areas but also to give this cooperation a European perspective in order to strengthen the European Union.
Angela GANNINGER: Many important issues like climate change and others cannot be dealt with just by France and Germany in any case. We need to cooperate closely with other countries. And, of course, the EU member states are our most natural partners.
INFOTAG: What impact could this new treaty have on cooperation between the French and German embassies in Moldova?
Pascal LE DEUNFF:Both embassies have been working closely together for years, but the new treaty will give us more motivation to do so. Angela Ganninger and I meet once a week and consult with each other on an array of issues, especially on political developments in Moldova and on relations between the EU and Moldova. Our deputies also meet frequently.
We also exchange views about trade and economic issues, especially about difficulties that our companies sometimes experience in Moldova.
We also usually organize a joint cultural event in Chisinau. Last year and this year this was/will be a joint concert with German and French DJs. We have also repeatedly joined our efforts to assist Moldovan institutions in various areas, including the health and justice sectors. In particular, we made a joint donation to the Emergency Hospital of Chisinau last November.We will continue to do so and even strengthen joint cooperation projects.
Angela GANNINGER: We also cooperate when it comes to the implementation of the Moldova-EU association agreements and the DCFTA.
We will also closely cooperate ahead of the 24 February parliamentary election in Moldova. We hope that the election will be conducted in line with international standards and respecting democratic principles.
INFOTAG: Speaking about the ongoing election campaign, how does it look to such neutral observers as France and Germany?
Pascal LE DEUNFF: Since we are observers, we observe but we do so with democratic eyes. We do not want to interfere with the electoral process in Moldova. We will assess the situation when the time comes.
Angela GANNINGER: We meet not only politicians, but also representatives of local electoral commissions and encourage them to take their work very seriously. Credibility of the institutions involved in this process is very important for how this election will be seen afterwards.