​"LITTLE GREEN MEN" RECRUIT AND TRAIN YOUNG PEOPLE FROM MOLDOVA, TOO – EX-DEPUTY MINISTER
05 september, 2014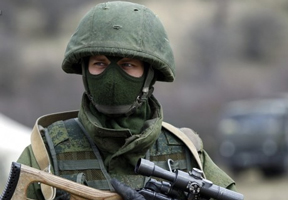 There are "little green men" present in Moldova, who recruit and teach the local youth how to misinform the populace and how to act in emergency situations, Ghenadie Cosovan, former Deputy Minister of the Interior, stated at the Thursday's meeting of the Chisinau Press Club that was organized at the NATO Information and Documentation Center in Chisinau and was dedicated to the NATO Summit in Wales.
Cosovan said that there are whole subdivisions in Moldova formed by the so-called "big brothers" from Russia, and that these units are trained in Transnistria and Gagauzia.
According to him, he has repeatedly addressed the Moldovan authorities with a request to draw attention to these developments.
"The Information and Security Service carried out some investigations in southern Moldova and established that three "little green men" were working there, training the youth. But after an information leak, they left the region", said the ex-minister.
According to data available with him, over 500 young men were recruited in southern Moldova, who were trained in Rostov-on-Don [in southern Russia], Moscow, Transnistria and Balti [Moldova's second-largest city].
"During shooting practices, the students use five hundred to a thousand cartridges a day", said Cosovan, adding, "Also, there is information that young men are recruited and trained in Chisinau as well".
The ex-deputy minister called upon the Moldovan authorities and the law enforcement to take adequate measure to resolve this problem.
"As is known, the Transnistrian army is more numerous than ours and better prepared. Unlike our armed forces, it has been provided with up-to-date weaponry and military equipment, which means that in case of a military conflict, the Moldovan army will be not able to render proper resistance", said Cosovan.
He reminded the recent events in the Crimea, "where the activities of "little green men" from Russia have led to secession of the peninsular from Ukraine and to its accession to the Russian Federation".