​PRESIDENT TIMOFTI CONDEMNS COUP ATTEMPT IN TURKEY
18 july, 2016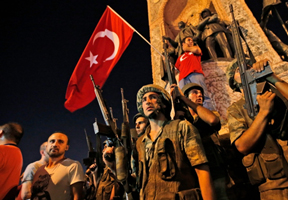 Moldovan President Nicolae Timofti has condemned the attempted coup d'etat in Turkey, having called constitutional order to be "the main element of the existence of a law-governed state".
Timofti wrote in his message that Moldova supports the restoration of public order in Turkey and respects the sovereign choice of the Turkish people.
"Turkey is a significant partner to the Republic of Moldova and a catalyst of regional and international peace and security. We regret human deaths, express condolences to the authorities of the law-governed state and wish a soonest-possible rehabilitation to injured persons", wrote Nicolae Timofti.
Due to the coup attempt that was undertaken in Ankara and Istanbul last Friday/Saturday night, the Moldovan Ministry of Foreign Affairs and European Integration has opened a hot line – 022 788688 – which provides information about Moldova citizens staying in that country.
According to the Ministry's estimates, there are over 6 thousand citizens of Moldova in Turkey at the moment, mostly people enjoying their summer vacations. Many Moldovan tourist agencies are saying they have been in constant touch with the hotels, where Moldovan tourists are staying. According to them, the situation in the country is under full control by the government, so an absolute majority of the Moldovan tourists are not going to interrupt their vacations in Turkey.
Last Saturday, Prime Minister Pavel Filip convened an extraordinary meeting of the Cabinet due to the situation in Turkey. He called relevant ministries and governmental agencies to render every necessary support to citizens staying in Turkey.
Moldova's Deputy Premier, Minister of Foreign Affairs and European Integration Andrei Galbur sent a telegram to his Turkish colleague Mevlut Cavusoglu, condemning the forcible coup attempt undertaken by a group of army officers.
He expressed support to the democratically elected authorities and to the constitutional order in Turkey, as well as condolences on the death of people.