​IGOR DODON DECREES TO HOLD CONSULTATIVE REFERENDUM ON 4 QUESTIONS…
29 march, 2017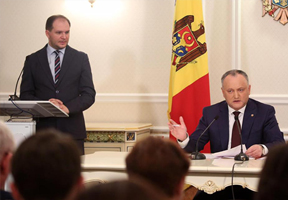 Moldovan President Igor Dodon has signed a Decree on holding, next September 24, an all-republican consultative referendum on 4 questions. The head of state signed the Presidential Decree on Tuesday evening in the course of the news conference he convened on the occasion of his first 100 days on the presidential post.
Dodon said the 4 questions are concerning all citizens of the country, and read out the questions:
– On canceling the Law on the order of returning the billion euros stolen from the Moldovan banking system;
– On investing the President with extra plenary powers for dissolving the Parliament and appointing the date of an early parliamentary election;
– On reducing the Moldovan Parliament's strength down to 71 MPs from the current 101;
– On teaching "The History of Moldova" subject in Moldovan schools instead of "The History of the Romanians" currently.
"I promised [during the presidential campaign in 2016] that disputable questions of a vital importance for the nation would be put up for referenda. I have submitted the above 4 questions to the Parliament, but they [pro-European parliamentary majority] blockade all my initiatives. You want it this way? OK, I will also be acting in the same manner. Presently I can't see any other way out except addressing the people of Moldova to learn their opinion on these vital issues", said the President, and voiced confidence that citizens will support the referendum initiative.
The head of state said, addressing to the Parliament and Government: "Don't you try to blockade the referendum. I've taken all circumstances into consideration and have given time enough for introducing amendments to the State Budget to allocate means for referendum holding. I've given time for preparation and for registering diaspora representatives. We have taken stock of everything".
Dodon voiced confidence that on all the referendum questions he will receive citizens' support at levels between 70% and 90%, depending on a question.
"On the basis of referendum results and immediately after it, I will sign a presidential decree in October-November on dissolving the incumbent Parliament and on appointing a snap election date. Nobody will be able to prevent me from that, don't you even try", stated Igor Dodon.
"But if somebody disagrees, let them organize a response referendum of their own – on impeaching the President. It would be interesting to watch this somebody resisting to the referendum results, to the people's opinion and to the President – the guarantor of the Constitution", stated Igor Dodon.
Infotag's dossier: According to the Republic of Moldova legislation, the President is eligible to initiate a consultative referendum but has no right to initiate a constitutional referendum. A consultative referendum has no legal consequences.