MOLDOVAN GOVERNMENT DECIDES TO RECALL 4 AMBASSADORS HOME
02 november, 2017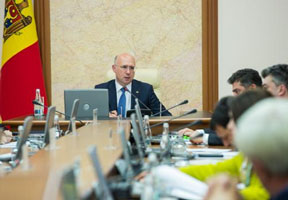 At its ordinary working meeting held traditionally on Wednesday afternoon, the Moldovan Government passed Resolutions on recalling the country's 4 ambassadors home namely the Ambassadors to the United States - Aurel Ciocoi, to Lithuania - Valeriu Frija, to the Netherlands - Emilian Brenici, and the Ambassador to Belgium, Luxemburg and NATO - Iurie Renita.

Moldova's Deputy Premier, Minister of Foreign Affairs and European Integration Andrei Galbur, who presented the draft Resolutions to the Cabinet, did not explain the reasons of the diplomats' revoking to Chisinau. However, everybody knew that the 4-year-long term of office, assigned usually to ambassadors, has expired only with Ambassador Emilian Brenici. The Ambassadors to Lithuania and Belgium have worked in their destination countries for only slightly more than one year, and the Ambassador to the United States, Aurel Ciocoi, was appointed to Washington DC as recently as in May 2017. Ciocoi is a career diplomat, and he worked before in China 2 years and in Germany 5 years.

Local experts presume that President Igor Dodon and the Government have agreed upon all this in order to launch a new round of diplomat reshuffling. To appoint new ambassadors, it is necessary to receive consent of the president, who signs corresponding presidential decrees only upon the adoption of governmental Resolutions. Last March, the Cabinet and the President managed to reach a compromise on assigning ambassadors to 9 countries.

On Wednesday morning, the Ministry of Foreign Affairs and European Integration confirmed to Infotag that decisions were being prepared to recall several ambassadors namely the ones working in Lithuania, the Netherlands, Belgium and Romania. However, the governmental Resolution adopted on Wednesday evening did not contain the name of the Ambassador to Romania, Mihai Gribincea, but there appeared a new name - of the Ambassador to the USA Aurel Ciocoi.

Earlier, President Igor Dodon was insisting on recalling Mihai Gribincea, who dared criticize the Presidential Decree on revoking the Moldovan citizenship from ex-President of Romania Traian Basescu. In those days, the Government rejected the President's proposal to recall Ambassador Gribincea from Bucharest, but agreed with Dodon upon positions on replacing ambassadors in other countries. Experts presume that this time, Igor Dodon will be insisting on removing Mihai Gribincea - as a condition for revoking and appointment of other diplomats. May be the Government will agree to this proposal to create the semblance of a compromise with the head of state.