MOLDOVAN PRESIDENT PROPOSES TO REVISE SOME DCFTA PROVISIONS
08 november, 2017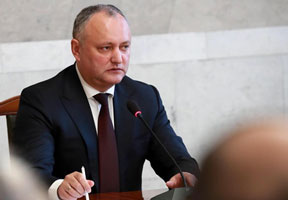 The provisions of the Deep and Comprehensive Free Trade Agreement (DCFTA) on a whole number of groups and categories of goods should be revised and the country should return to the regime of autonomous trade preferences, to asymmetric trade with the EU, maintains Moldovan President Igor Dodon.

According to his Facebook page, he stated about this in his meeting with EU Trade Commissioner Cecilia Malmstrom on Tuesday. The head of the state stressed that this concerns agricultural produce, over 70% of which are supplied to the markets of Russia and the CIS countries, while the perspective of exporting to EU market seems very weak.

"The revision of these Agreement provisions will allow achieving a considerable growth of Moldova's internal potential both in production and in exports", the head of the state said.

According to him, the European Union is an important trade partner for Moldova and the trade relations with it register growth of imports and exports, but it would be desirable that the structure of exports to the EU to have more goods and services with value added.

Dodon addressed to the EU Commissioner with a demand on raising exporting quotas on a number of Moldovan goods, the demand for which in the European market is growing with each coming year. He also solicited the Commissioner on preserving Transnistria's rights of trade with EU in 2018 as well.

"I stand for weighted balance of Moldova's economic interests both in the East and in the West. I am absolutely sure that trade relations between Moldova and the EU will keep strengthening and developing in interests of both sides", he wrote.