MAYA SANDU WANTS TO MOBILIZE NATION INTO A UNITED FRONT AGAINST "PLAHOTNIUC-DODON BINOMIAL"
20 november, 2017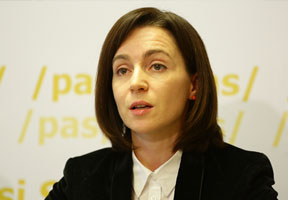 Party of Action and Solidarity (PAS) Chairperson Maya Sandu has set herself an objective to mobilize Moldova citizens in 2018 so as to stand up as a solid front against what she calls the "Plahotniuc-Dodon binomial".

Speaking today at a local private television channel, the opposition politician said that the "united front' will be formed of people ready to stand under the banners of defense of democracy in the Republic of Moldova.

Speaking of the PAS party life, Maya Sandu said the organization will shortly determine the persons to be included into the party ticket for the 2018 parliamentary election as well as PAS candidates for parliament in single-member constituencies.

The PAS leader rejected the accusations being heard from her political opponents - that Moldovan opposition politicians allegedly complain to Brussels about the bad situation in the country. Maya Sandu stated that if democratic processes in Moldova are in jeopardy, the situation needs to be discussed with foreign partners as well.