PREMIER FILIP CALLS ON PRESIDENT DODON TO STOP BLACKENING HIS NATIVE COUNTRY
28 november, 2017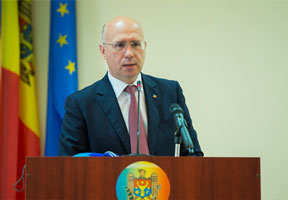 Moldovan Prime Minister Pavel Filip has called on President Igor Dodon to stop blackening his native country. Filip made this appeal on his Facebook page, commenting on Dodon's sayings that Moldova's chances for admission to the European Union in nearest decades are standing next to a zero.

Filip called President Dodon's reaction to the Eastern Partnership Summit held in Brussels last Friday a "disappointing and populist one". In his words, lately Mr Dodon has been spending more time in Russia than at home, "so it is quite possible that the Eastern Partnership Summit might look totally different to him", as the Premier put it.

"Or may be the success of the Brussels event made Dodon feel obliged to make manipulative statements to somehow diminish the positive impact of the Summit. If the president really wants to make something good for Moldova, he must stop blackening his country and give up his desperate efforts to create an artificial conflict between Moldova and its foreign partners, no matter whom we mean – the European Union, the USA or Russia", wrote Premier Filip.

He stressed that Igor Dodon's political career is based exclusively on geopolitics, whereas the Republic of Moldova's future is based on the European modernization project supported by a considerable number of citizens.

On Monday, President Igor Dodon published a voluminous commentary on the last Friday's Eastern Partnership Summit, and wrote in particular that the event "has confirmed the entire illusoriness of the European integration as such".

"The Eastern Partnership Summit has proved that the Republic of Moldova's dossier is in the lowest drawer of Europe's table of concerns. The Europeans' disappointment about Moldova has assumed a permanent character, and Moldova's chances for accession to the European Union in nearest decades are equal to nearly a zero. It is thus becoming obvious that until now the European authorities have waged a geopolitics of illusions", said the commentary.

Igor Dodon became the only of the six Presidents of the EaP member countries who had not been invited to the Brussels Summit. Moldova was represented at the forum by Prime Minister Pavel Filip. President of Belarus Alexander Lukashenko refused to go to Brussels and sent his minister of foreign affairs to the Eastern Partnership Summit. The rest 4 delegations were led by the Presidents of the EaP countries concerned.