PREMIER FILIP GRATEFUL TO EBRD FOR PROVIDED ASSISTANCE
15 february, 2018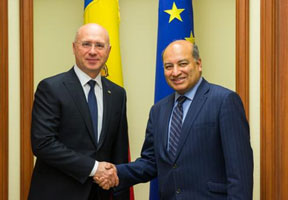 Prime Minister Pavel Filip met with President of European Bank for Reconstruction and Development (EBRD) Suma Chakrabarti in Chisinau on Wednesday.

The Premier expressed gratitude to the European bank for the provided assistance, especially pointing at help in such fields as economic and social development, science and innovation, infrastructure rehabilitation, integration in the European energy market and energy sources diversification, central public authority reforming and raising the efficiency of external assistance using. Also, Pavel Filip thanked for the assistance provided to the Prime-Ministerial Economic Council.

The Prime Minister stressed the importance of EBRD assistance in the process of raising the energy efficiency level in accordance with Energy Community Agreement and the EU-Moldova Association Agreement. A special attention he gave to assistance in building of the Ungheni-Chisinau gas pipeline.

The EBRD President appreciated Moldovan Government's efforts in the process of business climate improvement, combating of bureaucracy and ensuring of stability of the banking sector, which raises the country's attractiveness for investors.

He confirmed the Bank's readiness to continue supporting the Republic of Moldova on the way of implementing reforms, directed to sustainable economic development. The EBRD regards the banking sector restructuring, the raising of energy security, support to private companies, promotion of engineer support networks and infrastructure improvement as priority directions for Moldova in 2017-2020.

Last year, the EBRD provided to Moldova financial assistance worth 131 million euros within 10 projects, among which the building of the Ungheni-Chisinau gas pipeline, support to the banking sector, energy efficiency financing. Since the beginning of its activities in Moldova, the EBRD ensured financing of 122 projects with total cost of 1.2 billion euros.