ION CEBAN AND ANDREI NASTASE TO COMPETE FOR CHISINAU MAYORSHIP AT SECOND ROUND ON JUNE 3
21 may, 2018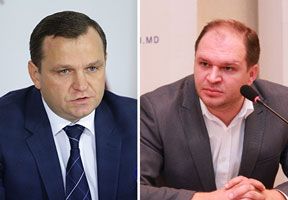 The second round of early mayoral elections, to be held in Chisinau on June 3, will be contested by two representatives of the opposition – by Party of Socialists candidate Ion Ceban and by Andrei Nastase, leader of the political party called Platform "Demnitate si Adevar" [DA, "Dignity and Justice"].

At the snap mayoral election held in Chisinau last Sunday, Ion Ceban received 40.98% votes, and Andrei Nastase 32.12%.

Independent candidate Silvia Radu polled 17.65% ballots, though during the campaign she was receiving administrative and media support from the ruling Democratic Party, and all opinion polls were forecasting her passing into the second round, and some even predicted her victory in the first round.

Last Sunday, the Chisinau Mayor's post was contested by 11 candidates. The 4th and 5th positions were won by two candidates standing for Moldova's unification with Romania – Romanian parliamentarian Constantin Codreanu, the candidate of the pro-Romanian National Unity Party (PUN) of Moldova, who received 4.55%, and Liberal Party Deputy Chairman Valeriu Munteanu (3.61%). The rest 6 candidates polled between 0.15% (Maxim Braila) and 0.22% (Vasile Costiuc).

Polling stations in Chisinau were visited by 223,529 voters, which made a voter turnout of 35.53% of citizens included into voter lists.

According to observers' estimates, the election process went orderly and democratically, and there were no violations that could influence on the voting outcome.