US CONGRESS ADOPTS RESOLUTION IN SUPPORT TO MOLDOVA, GEORGIA AND UKRAINE
13 july, 2018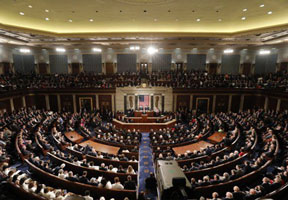 The United States Congress adopted a Resolution on supporting the Eastern Europe and NATO countries, which confirms the US adherence to the territorial integrity and political sovereignty of Moldova, Ukraine and Georgia, as well as support to their democratically elected Governments.

The US is ready to support these countries in their aspiration to democracy, European integration and ensuring energy security and enhancing trade cooperation.

The resolution condemns Russia's aggression in the region and recommends all personnel and equipment belonging to Russian security and armed forces to immediately withdraw from the sovereign territory of Ukraine, Georgia, and Moldova. The document also calls on the United States Government, United States allies in Europe, the United Nations, and international partners to continue to pressure the Government of the Russian Federation to uphold its international obligations.

Also, the resolution calls on the Department of State to engage in a dialogue with the nations of Ukraine, Georgia, and Moldova on best practices to combat Russian meddling in the sovereign nations' democratic processes.

As Infotag has already reported, a group of congressmen of the US Republican and Democratic Parties proposed a draft resolution in support to political sovereignty and territorial integrity of Moldova, Ukraine and Georgia for consideration of US Congress representatives.