IT IS IMPORTANT FOR EU THAT NEW MOLDOVAN GOVERNMENT FULFILL ASSOCIATION AGREEMENT – PETER MICHALKO
22 march, 2019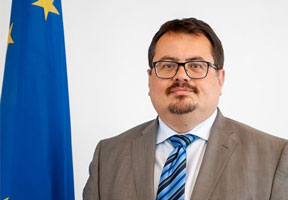 Ambassador Peter Michalko, Head of the European Union Delegation to Moldova said at public television on Thursday that the new Moldovan Government should continue fulfilling liabilities, undertook by the republic within the EU-Moldova Association Agreement

For developing Moldova-EU relations is it important to have a government which will be implementing the program of reforms, discussed by the EU-Moldova Association Agreement. What kind of government is this going to be? It will be a result of political process, negotiations between parties. All the political forces have the possibility to support the reforms and fulfill the Association Agreement, but we cannot talk about somebody concrete. We do not intervene in Moldova's internal policy", Michalko said.

The diplomat said that reforms should be conducted in interests of citizens, while the EU is closely monitoring the observance of standards and the supremacy of law, which are Moldova's liabilities.

The EU is monitoring the development of the situation hoping to continue the process of reforms, regardless of the Government membership. The EU is not a participant in the process of forming a new Government, the Moldovan political forces are responsible for this. It is important that politicians to have a responsible attitude and to respect the people's will, the EU ambassador said.

As for the preferences for certain people or political forces, Michalko said the EU has no such. Its relations with Moldova are built on a dialog with the authorities on the basis of the agenda, implied in the Association Agreement.