PREMIER SANDU ASSURES COMMISSIONER HAHN THAT NEW GOVERNMENT SHALL CONTINUE FULFILLING ASSOCIATION AGREEMENT
17 june, 2019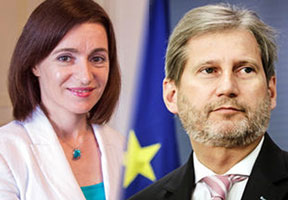 Prime Minister Maia Sandu has assured Commissioner for European Neighborhood Policy and Enlargement Negotiations Johannes Hahn that the new Moldovan leadership will continue to implement the EU-Moldova Association Agreement. This and other questions were discussed in the telephone conversation the two officials had this past Saturday shortly after the new Cabinet of Ministers had started its regular activities and had held its first working meeting in the de-blocked Government Building.

According to the European Commission's report, Commissioner Hahn welcomed the peaceful transition of power and congratulated Maia Sandu on the occasion her assuming the office of a prime minister. He reaffirmed the European Union's commitment to work with the new Government of Moldova.

Johannes Hahn stated that in case of need the European Union will render a quick support and consultancy as soon as the new Government meets the country's earlier-taken conditions and as the new Government ensures the observance of the supremacy of law, media pluralism and implements a judiciary reform.

According to the European Commission report, Maia Sandu confirmed readiness to implement the Association Agreement, whose basic principles pertain to respect for the supremacy of law and democracy.

Maia Sandu invited Commissioner Johannes Hahn to come to Chisinau in a nearest possible time.

Johannes Hahn last visited Moldova on June 3. On that very day, there were two other high-ranked officials here – Russian Deputy Prime Minister Dmitry Kozak – President Vladimir Putin's Special Representative for the development of trade and economic relations with the Republic of Moldova, and Bradley A. Freden, Director of the Eastern European Affairs Office at the U.S. Department of State, responsible for relations with Ukraine, Moldova, and Belarus. Shortly after their visits and intensive talks with various political players, negotiations on governing coalition forming began between the right-wing political bloc ACUM and the pro-Russia Party of Socialists (PSRM), which were crowned with the reaching of an accord on approving a new government.