PARLIAMENT DECLINES DP INITIATIVE ON CREATING A COMMISSION FOR INVESTIGATING FOREIGN PARTY FINANCING
18 june, 2019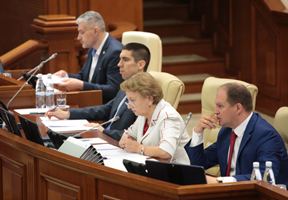 The Democratic Party's initiative on creating a commission for investigating the circumstances of possible threat to Moldova's state security from receiving of external financing by political parties was declined by the Parliament on Tuesday.
Democrat MP Vladimir Cebotari, who supported the initiative, said that the materials that appeared in public space [about negotiations between Igor Dodon and Vlad Ploahotniuc] contain direct evidences of using huge sums, which came from state activists (president) for party needs (PSRM).

"All this is not just violation of election legislation, but also falls under the Criminal Code provisions. Thus, it is necessary to establish a commission on investigating inside the Parliament to clarify the situation", ex-Minister of Justice said.

However, the DP proposal was supported neither by Socialist MPs nor by representatives of the ACUM bloc. Only Democrats raised hands in support of the initiative (26 of 88 present MPs).

Parliament Speaker Zinaida Greceanii expressed confidence that the higher legislature should not participate in speculations, spread by some media outlets.