MOLDOVAN PREMIER MEETS EU DELEGATION HEAD AND USA AMBASSADOR
19 june, 2019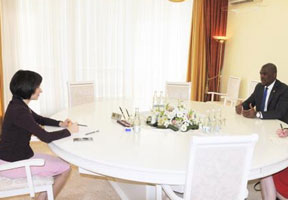 Moldovan Prime Minister Maia Sandu discussed the situation in the country with Ambassador Peter Michalko, Head of the European Union Delegation to Moldova and Ambassador Extraordinary and Plenipotentiary of the USA to Moldova Dereck J. Hogan on Wednesday.
According to the Government's press service, at meetings Sandu expressed gratitude to the two high officials for supporting the new Government and the assistance provided to Moldova for resolving the political crisis.

"The new Government will fulfill the EU-Moldova Association Agreement provisions, as well as all the liabilities on reforms and principles, established in the Agreement", the premier said.

Peter Michalko said that the European Union is ready to resume discussions on macro-financial assistance in conditions of fulfilling the undertaken liabilities.

"We are ready to provide financial support to projects of cross-border cooperation, as well as international expertise for strengthening democratic institutions", the diplomat said.

"Ambassador Dereck Hogan assured us that the US will be closely cooperating with the new Government for strengthening the state of law and creating strong institutions, which ensure high living standards for all Moldovan citizens. Strategic partnership with the US is a priority in Moldova's foreign policy", Maia Sandu told about her meeting with US Ambassador.

At the meeting with Minister of Economy and Infrastructure Vadim Brinzan, Dereck pointed at the US support to the program of new Government, especially in what concerns the development of independent economy, based on transparency.

The ambassador pointed at the importance of creating a transparent justice system, opening new jobs and energy security. The diplomat said it is important to increase the volumes of Moldovan trade with Eastern and Western countries.

German Chancellor Angela Merkel congratulated Maia Sandu on appointment as prime minister, adding she will be glad to receive her in Berlin with working visit in the nearest time.