CONSTITUTIONAL COURT CHAIRMAN TENDERS RESIGNATION
21 june, 2019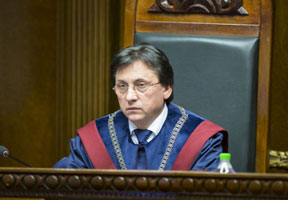 Moldovan Constitutional Court Chairman Mihai Poalelungi tendered resignation on Thursday, the Court reported briefly on its official website.

President Igor Dodon welcomed the judge's decision, and called the rest 5 CC Judges to follow their boss' example, "or…to wait until the tomorrow's decision of the Venice Commission and/or a parliamentary procedure scheduled for next week. Decide yourselves", Dodon wrote on his Facebook page, thus hinting that their dismissals are inevitable.

Out of the six Constitutional Court Judges, only one, Aurel Baiesu, seems to have escaped the shameful public procedure of applying for resignation because his mandate of a CC Judge expired yet last April.

Dismissal of the incumbent CC team is being demanded also by Prime Minister Maya Sandu, who has called the judges to go, "if at least a drop of respect for the law and Constitution has remained in their hearts and minds".

As was already reported by Infotag, exactly the Constitutional Court judgments of June 7-9 (on the illegitimacy of the new Parliament etc.), passed enthusiastically on the request of Democratic MP Sergiu Sirbu, led to diarchy and a political crisis in Moldova, which lasted one week from June 8 to 16. In those days, the republic lived in fact under two governments. And despite the presence of a functioning parliament, the Constitutional Court gave its blessing to suspend President Igor Dodon from office for several minutes, during which the Democrats decreed to hold an early parliamentary election on September 6, being sure that the mixed election system, introduced by them dishonestly, will never let them lose the polls.

The Court's behavior caused unprecedented criticism not only in Moldova but wider in the world. Secretary General of the Council of Europe Thorbjorn Jagland voiced a "serious concern" and offered an opinion that the latest Constitutional Court decisions were hard to comprehend and that they had no substantiation in the light of the Moldovan Constitution or the international law. He requested the Venice Commission of the Council of Europe to give its assessment of the CC decisions, and it is expected to be presented on June 21. The Constitutional Court readily cancelled all its 6 decisions concerned already on June 15, though each of them was traditionally ended with the formulation that Constitutional Court decisions "are final and without appeal".